Melanzane grigliate
Grilled eggplant recipes may seem like one of the simplest salads on earth, but I find them quite hard to make properly.
Behind the salumi, formaggi and delicacy counter in any Italian supermarket, you'll find a dish of 'melanzane grigliate sott'olio' with perfectly grill-striped slices of eggplant covered in a spiced up dressing of oil and vinegar. It looks like one of the most simple salads on earth, but believe me, it isn't. Or perhaps it is just me, who has not got the knack.
I have tried drying the slices out with salt, brushing them in oil and frying them on the barbecue, but every time they end up burned on the outside and raw on the inside. If – after numerous trials – I manage to make a prettily striped specimen, the pattern disintegrates along with the eggplant meat the moment it is submerged in vinegar and oil. I never succeed.
Therefore I have decided to buy my 'melanzane grigliate sott'olio' readymade. And when I want to serve grilled homemade eggplants, I use the recipe below. It does not preserve the vegetables for months (- or days for that matter), but the taste is great – and it never fails.
Ingredients
2 eggplants
salt
1 peperoncino
olive oil
½ lemon – zest and juice
Fresh basil
Preparation
Wash the eggplants, cut them in wedges, and sprinkle with salt. Leave them to drain for 30 minutes.
Rinse out the salt with water and toss the eggplant in olive oil with a touch of peperoncino.
Spread the eggplant wedges on a sheet of baking paper and bake them for about 20 minutes in a pre-heated oven (200°C/375°F), until crisp and lightly brown.
Squeeze lemon juice over the eggplant and sprinkle with grated lemon zest and lots of fresh basil before serving as a side dish or with salumi as part of a plate of antipasti.
More than grilled eggplant recipes
Eggplant wraps with prawn filling
Ciambotta – Aubergine, pepper and potato stew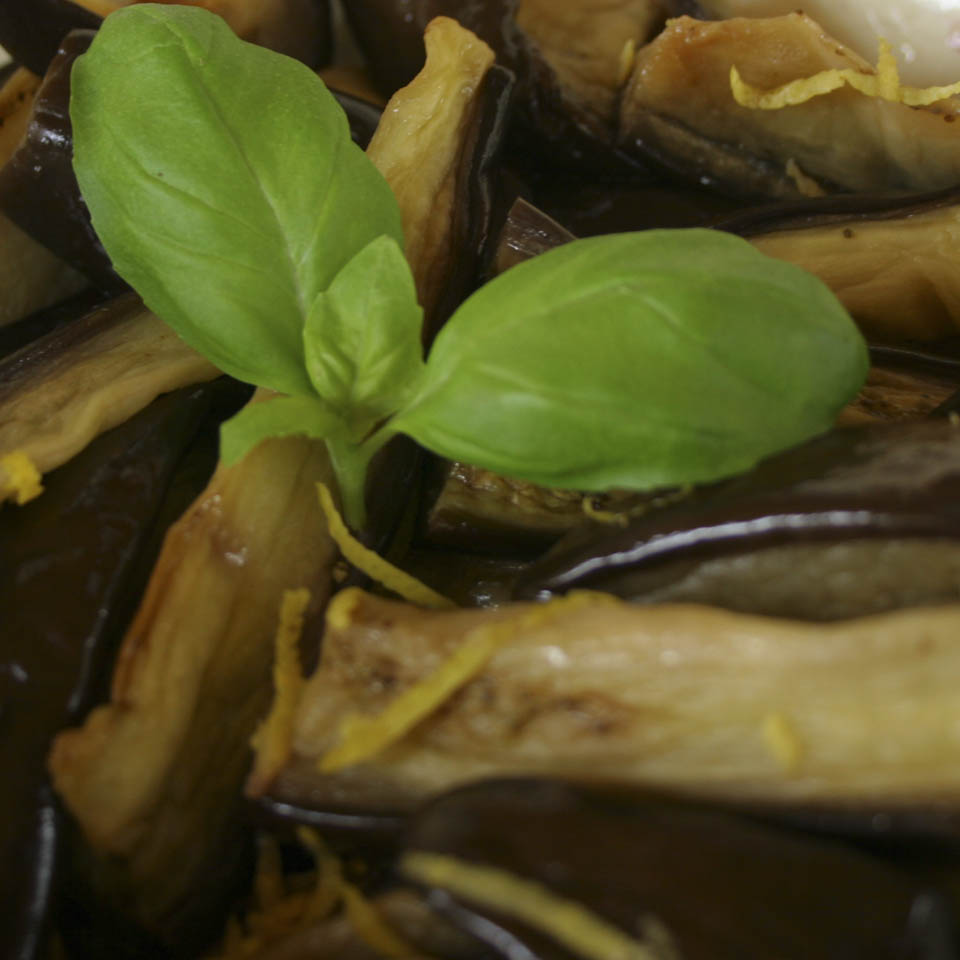 https://italiannotes.com/wp-content/uploads/2012/06/Grilled-eggplant-e1359714648823.jpg
240
640
Mette
https://italiannotes.com/wp-content/uploads/2014/12/logo.jpg
Mette
2010-05-11 08:48:00
2013-07-28 17:10:26
Grilled eggplant recipes