Gooseberry dessert with cinnamon cream
Gooseberries and cinnamon make an odd pair, but the taste is totally irresistible, when a fruity gooseberry compote is topped with cinnamon flavoured Bavarian cream.
This dessert is a traditional fool of fruit and custard, yet it is the first time I have tried making it with red gooseberries and a touch of cinnamon in the Bavarian cream. A combination I find totally irresistible, and a great alternative to summer trifles.
Ingredients
For the fruit compote
250 g red gooseberries
80 g sugar
1/2 vanilla pod
2 sheets of gelatin (3.2 g)
For the Bavarian cream
2 egg yolks
2 tbsp sugar
1 tsp ground cinnamon
1 tsp vanilla sugar
8 amaretti biscuits
Preparation
Nip the stem and flower off the gooseberries.
Soak the gelatin sheets in plenty of cold water.
Boil berries and vanilla pod in a little water. The water should just cover the bottom of the casserole.
Remove the vanilla pod and scrape out the seeds.
Add sugar and vanilla seeds to the berries and boil it though. It is a good idea to add the sugar little by little in order to acquire the right balance, where the fruit is neither too sweet nor too sour.
Blend the gooseberries to a smooth appealing texture and stir in the drained gelatin, while the fruit is still hot. Make sure the gelatin dissolves completely.
Pour the gooseberry dessert in 4 service cups and put it in the fridge to cool.
Prepare the Bavarian cream by whisking 2 eggs yolks with cinnamon, sugar and vanilla sugar, until the crystals have all dissolved.
Whip the double cream lightly.
Fold the whipped cream into the egg yolks.
Top the gooseberry dessert with chilled Bavarian cream just before serving.
Add a crumbled amaretti biscuit as crunchy topping.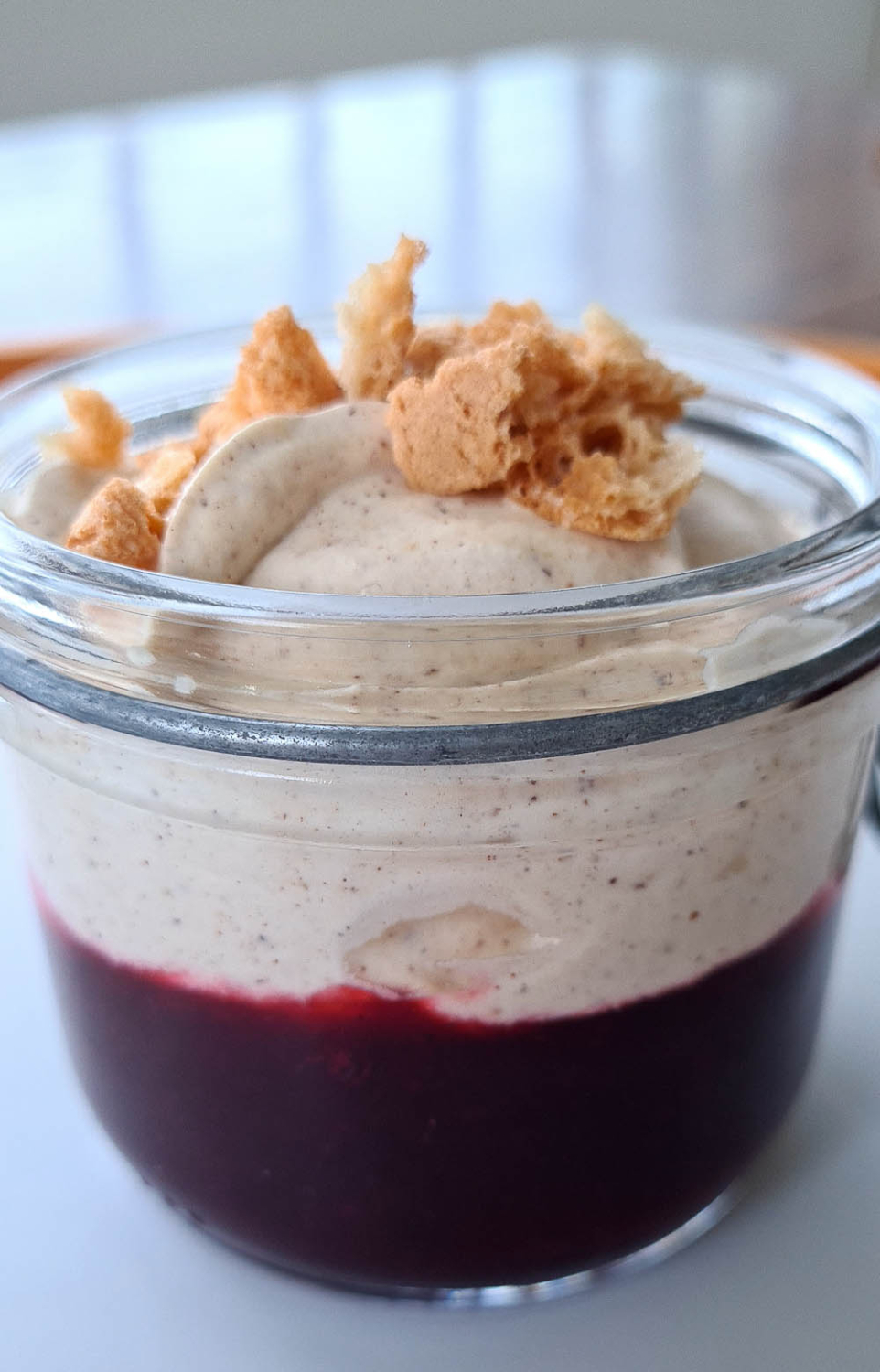 Gooseberry dessert can be made with both green and red gooseberries as long as you remember to adjust the amount of sugar. It is the combination with cinnamon cream that makes this dessert exceptional.