Gnocchi alla Sorrentina 
Gnocchi with tomato and mozzarella makes use of a classic caprese salad and pizza combo. And it is still great.
Those of us who just can't get enough of the classic tomato, mozzarella and basil combination found in insalata caprese and pizza margherita really love this dish of boiled gnocchi covered in a tomato sauce with floating islands of mozzarella. From this point of view it is surprising that none of my (innumerable) Italian cook books include the recipe, but perhaps it's considered too simple to mention.
I encountered the version below at Trattoria L'intruso on SS156 in Giuliano Di Roma FR), it was downright gorgeous, and can be prepared at home in less than 30 minutes with the same result.
Ingredients
500 g potato gnocchi (a good ready-made brand may do)
10 tomatoes
8 bocconcini di mozzarella di bufala (or two ordinary mozzarellas)
Fresh basil
Salt and sugar
Preparation
Bring a pot of water to the boil. Cut a cross in the skin at the bottom of each tomato with a sharp knife and scorch the tomatoes in boiling water for 15 seconds. Set the tomatoes aside to let them cool, before removing the skin, chop them up.
Heat the tomatoes in a saucepan with a little water , if necessary, to make a homogeneous sauce. Add salt, sugar and basils to taste, and cook for about 15 minutes.
Meanwhile prepare the gnocchi in accordance with the prescription on the package. They are usually boiled in salted water for a couple of minutes.
Grease an ovenproof dish with olive oil. Place the boiled gnocchi in the dish and cover with tomato sauce. Top with bocconcini or mozzarella quarters, and heat the dish in the oven at 190 C (375 F) for about ten minutes until the mozzarella has melted. Top the gnocchi with tomato and mozzarella with a sprinkle of fresh basil before serving.
PS. I sometime make gnocchi alla sorrentina without an oven, and it works all right. Just place a pot with gnocchi, tomato sauce and mozzarella over low heat and cover with a tight fitting lid to make the mozzarella melt.
Other main courses similar to gnocchi with tomato and mozzarella
Aubergine gratin with tomatoes and parmesan
Gnocchi with butter, lemon and ricotta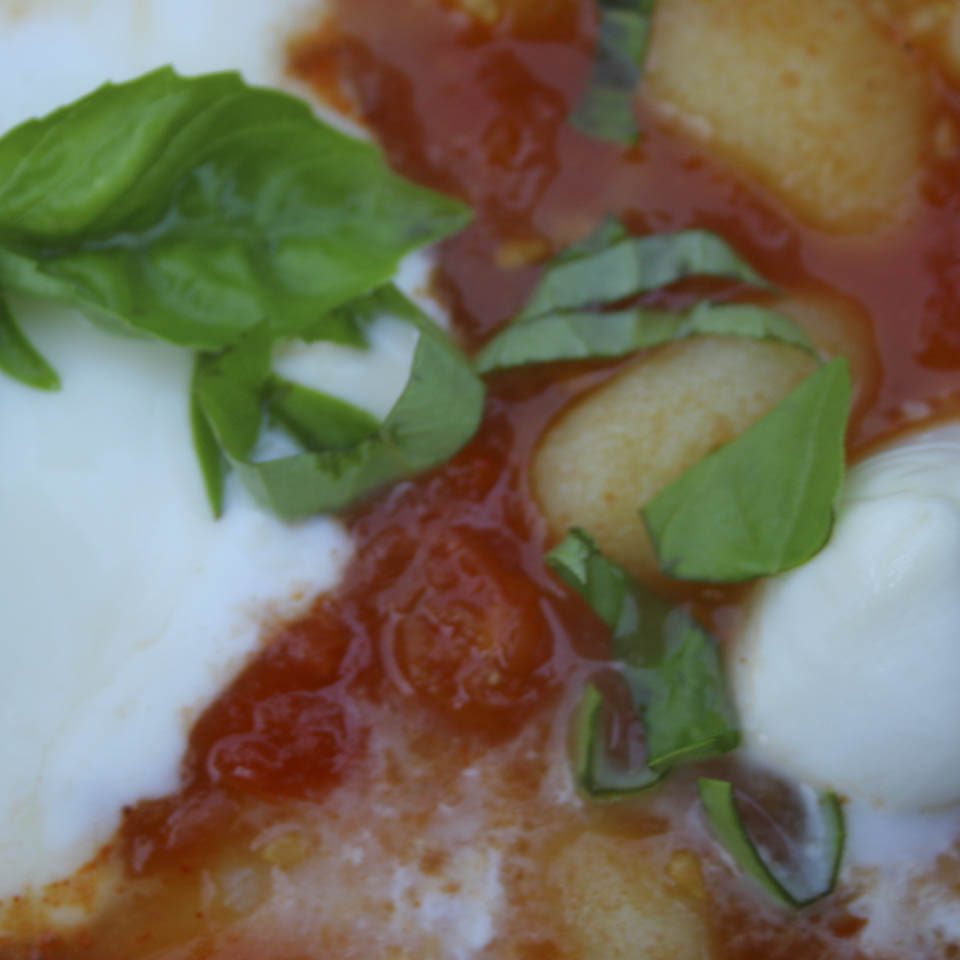 https://italiannotes.com/wp-content/uploads/2012/07/Gnocchi-with-tomato-and-mozzarella-e1359542116408.jpg
240
640
Mette
https://italiannotes.com/wp-content/uploads/2014/12/logo.jpg
Mette
2010-09-23 14:37:00
2013-09-18 19:48:53
Gnocchi with tomato and mozzarella