Artichoke salad with peas and beans
Frittella Palermitana
Frittella Palermitana is a classic Sicilian recipe. An artichoke salad with peas and beans that has to be made every time all the ingredients are in season.
Right now farmer markets in southern Italy boom with fresh artichokes, green peas and horse beans (also called fave). And cooked together these greens make a nutritious, bitter-sweet salad, which can be quite alluring. Especially when served as a light lunch, at the beginning of a meal or as a side dish to meat or poultry.
There's just one catch: You need fresh vegetables. In case of emergency, fresh green peas may be substituted by defrost, but marinated artichokes won't do and dried fave would ruin the dish. This fritella is one of those salads that can only be served in a period, when the right vegetables are in season.
Ingredients
1 onion
2 artichokes
200 g fresh horse beans/fave
200 g green peas
Olive oil
1 tbsp capers
Preparation
Shell peas and horse beans, but keep them separated.
Chop the onion finely.
Break all exterior leaves off the artichokes until you reach the tender heart. Cut off and discard the tops. Cut off and peel the top 5 cm of the stems. Cut hearts and stems in thin slices
Fry the onion lightly in olive oil until they become glass-like.
Add artichokes and fry for 3-5 minutes, before fave beans are included.
Fry over low heat for another 3-5 minutes, stir in capers and green peas.
The artichoke salad can be served immediately or cold.
More on artichokes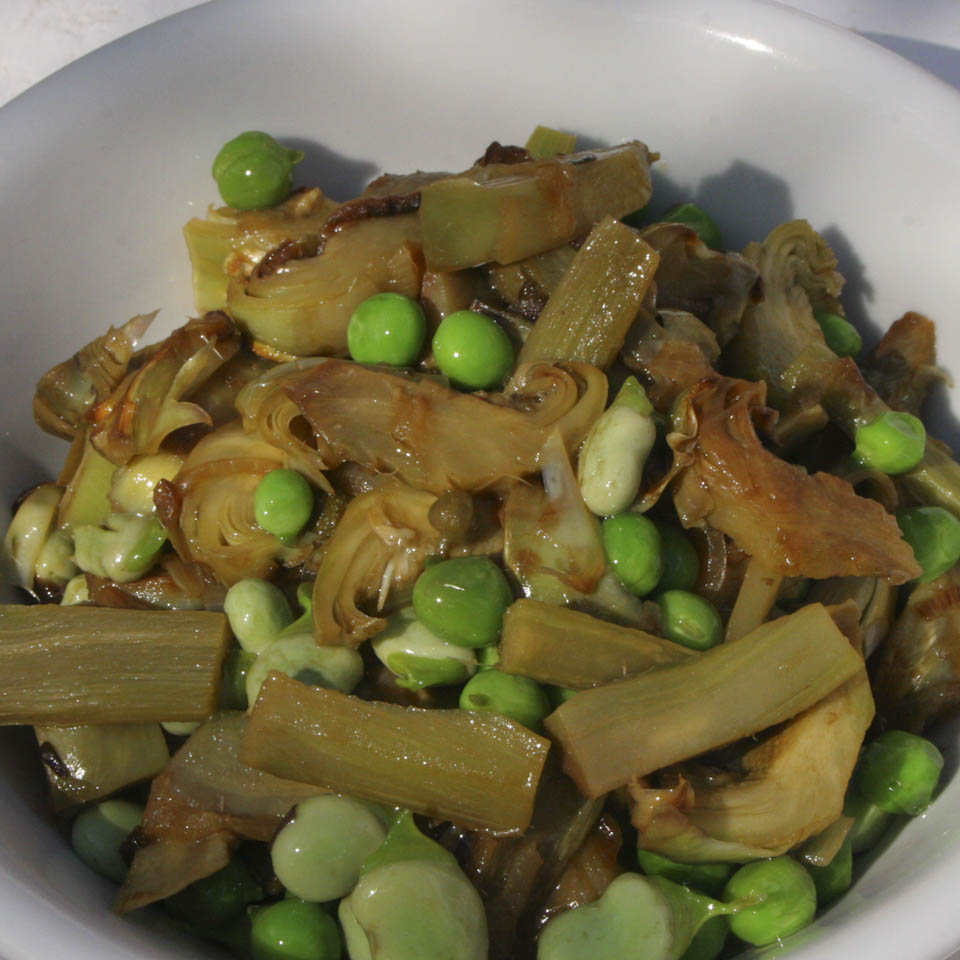 https://italiannotes.com/wp-content/uploads/2012/07/Artichoke-salad-1-e1361100491448.jpg
240
640
Mette
https://italiannotes.com/wp-content/uploads/2014/12/logo.jpg
Mette
2011-05-05 14:30:57
2017-01-22 15:18:30
Artichoke salad with peas and beans