Fresh orecchiette with tomato sauce
Orecchiette con pomodoro e ricotta dura
Orecchiette with tomato sauce ia a traditional Puglian recipe based on a few basic ingredients mixed with lots of love and care.
It is amazing how much time and energy, you can invest in a simple dish like orecchiette with tomato sauce and grated cheese, but both orecchiette and ricotta dura are puglian specialities that can be quite hard to obtain, unless you stocked up on these basics before you left the region. Therefore you either have to prepare the orecchiette yourself or use substitutes, in which case the dish can be ready to serve in a matter of minutes.
'Orecchiette' means 'small ears', because that is what the look like, and they are made by preparing normal pasta dough, rolling it into long rolls, slicing the rolls in small sections, and shaping them with a knife. Add final touches by inserting the thumb into each pasta
Ricotta dura is alternately known as ricotta secca, ricotta stagionata and ricotta salata, depending on where you are or who you ask. It is a hard cheese as opposed to the soft fresh ricotta, and if you are looking for a replacement use parmaggiano (parmesan), Grana Padano, pecorino or another cheese that can be grated.
Ingredients
350 g orecchiette (or farfalle)
250 g skinned tomatoes – preferably the small pomodorini
Salt
Olive oil<
Fresh basil (dried basil can also be used)
4 tbsp ricotta dura
Preparation
Heat the oil in a small pan. Fry the tomatoes for a few minutes before you turn down the heat, and leaves them to simmer for about ½ hour. Regulate the taste with salt and dried basil.
Heat up a large pan with plenty of water and bring it to the boil. Add a fistful of salt along with the orecchiette. Cooking time for home made orecchiette is about 10 minutes depending on how long they have been left to dry, i.e. shorter for freshly made pasta and longer for pasta that has been prepared days ago.
Drain the pasta when al dente and serve with tomato sauce, grated ricotta and fresh basil leaves.
Other dishes similar to orecchiette with tomato sauce
Walnut sauce for pasta in less than 10 minutes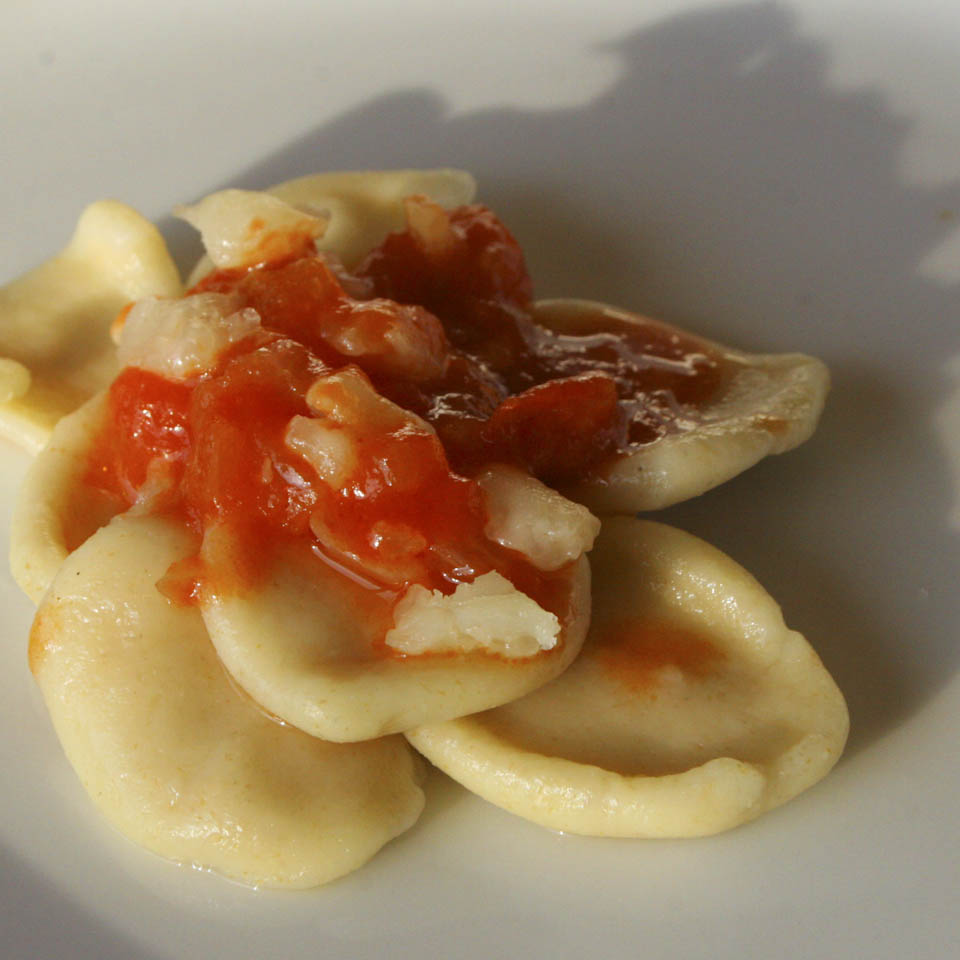 https://italiannotes.com/wp-content/uploads/2012/06/Fresh-orecchiette-with-tomato-sauce-e1362136555156.jpg
240
640
Mette
https://italiannotes.com/wp-content/uploads/2014/12/logo.jpg
Mette
2010-02-10 15:22:00
2013-05-04 11:41:57
Fresh orecchiette with tomato sauce