Easy focaccia recipe with herbs
Focaccia alla erbe
This easy focaccia recipe with herbs makes a great snack or sandwich and a perfect antipasti when served with hummus, pesto, sausages or salads.
The simple flat bread basted with olive oil is generally considered an early prototype of pizza and it can be found in almost as many variations, although the bread itself is thicker and more yeasty. In classical antiquity 'panis focacious' was baked in the ashes of the fireplace, 'focus' meaning both 'centre' and 'hearth', and it still improves with a relatively hot oven using a round metal baking tin.
If you haven't got a focaccia pan you can use a baking stone or free style by rolling the dough in a flat round or square shape directly on an oven plate. The main thing to remember is that focaccia making is very easy and just can't fail.
Preparation
25 g yeast
2 dl (200 ml) lukewarm water
Olive oil
750 g flour tipo 00
Salt
Fresh rosemary, thyme and salvia
Preparation
Dissolve the yeast in lukewarm water, add 1 tbsp olive oil along with 2 tsp salt and stir and knead in flour until the dough lets go of your fingers. It should still be a little sticky. Keep kneading for a while and enjoy the exercise. Place the dough in a bowl, cover it with a clean  but wet tea towel and let it rise for an hour or more.
Rub a round baking tin with olive oil and press the dough into shape with your hands. It doesn't matter if the dough does not quite cover the tin. Cover with the wet tea towel again and leave it for another half hour.
Preheat the oven to 225 C/425 F.
Chop the herbs finely and press them into the dough with your fingers, drizzle with olive oil and sprinkle with salt flakes,
Bake for 25-30 minutes till crisp and golden brown.
More snacks and bread like this easy focaccia recipe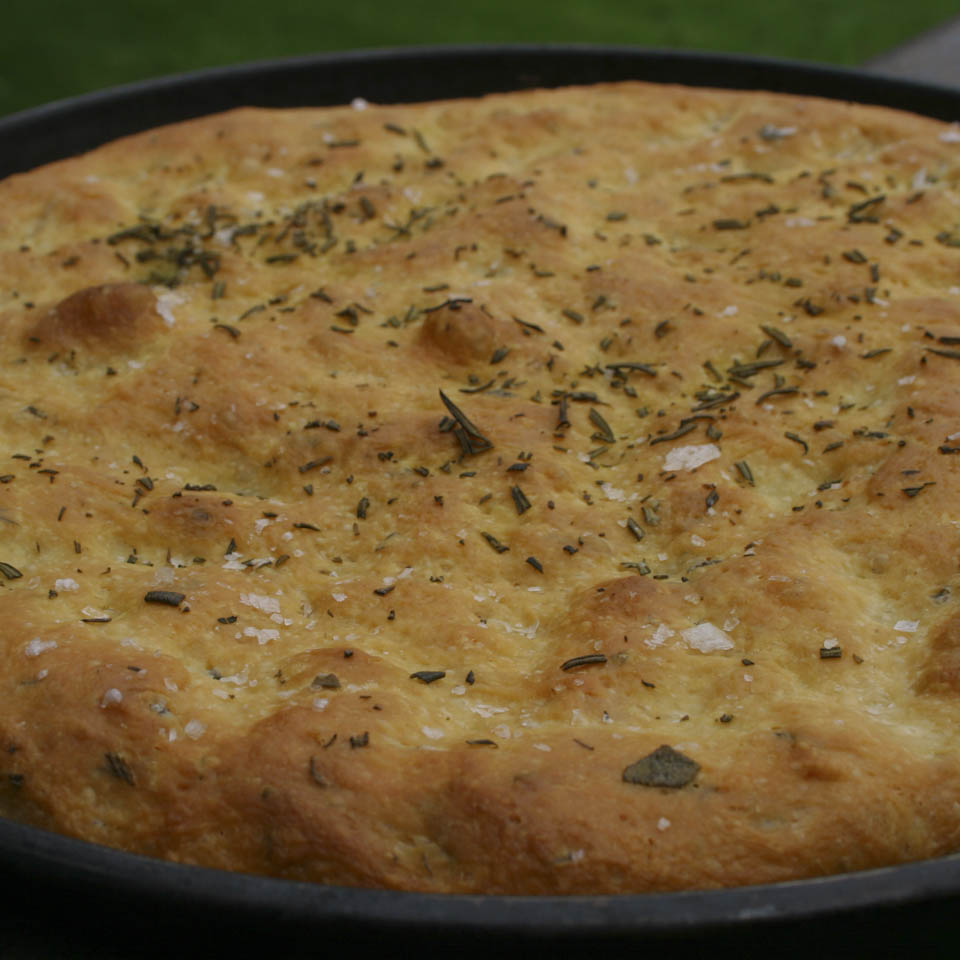 https://italiannotes.com/wp-content/uploads/2012/07/Focaccia-with-herbs-e1359107709380.jpg
240
640
Mette
https://italiannotes.com/wp-content/uploads/2014/12/logo.jpg
Mette
2011-01-06 17:10:51
2016-09-11 18:11:33
Easy focaccia recipe with herbs