Florence with children:  For children looking for the lily serves as a kind of Florentine treasure hunt.
Keeping children happy during city breaks can be hard work. Especially in places booming with boring churches, museums and other grown-up attractions, but Florence has a treasure hunt alternative to a constant supply of ice cream bribes. Just look for the lily emblem.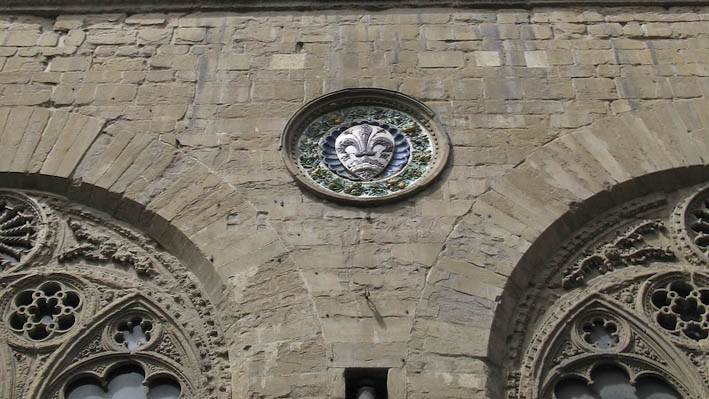 The characteristic, stylized lily – that some of us may recognize from our Scouting days – scattered on houses, statues, paintings, t-shirts and souvenirs throughout the old town, may be used to turn endless tourist walks into a simple quest for signs and symbols. It's easy for families to organize a treasure hunt leading to a nice lily spotting prize. And the kids love it.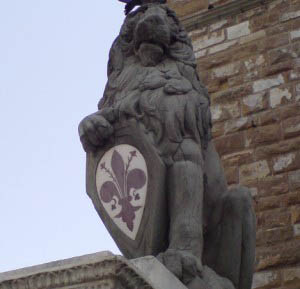 Formally, the stylized lily that might well be an iris is known as a fleur-de-lis, and it has been used for ornamental purposes and invested with symbolic meaning for eons. Around the turn of the first millennium the Kings of France started using it as a royal symbol. The emblem was also adopted by the Ghibelline family, who brought it to Italy, where it was copied into Florence's coat of arms. From heraldry it jumped to most public buildings, just as it was incorporated on Donatello's marzocco lion from 1418 that guards the main entrance to the town hall in Palazzo Vecchio on Piazza della Signoria. Fleur-de-lis can also be spotted in the coat of arms of the House of Medici.
As a result, the three-petalled flower still blooms in Florence and visitors of all ages can easily collect a nice big bunch of lily sightings.
More to see in Florence with children or without
Tours around Florence for Wine Lovers
Main image by Francisco Antunes on Creative Commons
https://italiannotes.com/wp-content/uploads/2012/07/Florence-with-children-e1362833963509.jpg
240
640
Mette
https://italiannotes.com/wp-content/uploads/2014/12/logo.jpg
Mette
2011-08-24 10:12:22
2017-09-23 15:33:11
Florence with children