Florence for newbies
Florence for newbies with a short walking itinerary to the main sights.
The first time I visited Florence, I got lost somewhere between Piazza della Signoria and Ponte Vecchio and went away with the feeling that I'd missed some of the most important sights of the city. This Florence for newbies itinerary aims to prevent recurrences by covering the main attractions in a 2 hour walk – unless you decide to linger someplace along the way. Or you could join a shared walking tour.
1st stop on Piazza del Duomo
I'd start out at Piazza del Duomo and take a snapshot of the red, white and green striped cathedral and the bronze 'door to paradise' in the octagonal Baptistery. The ten panels work as a picture Bible illustrating the stories of Cain and Abel, Noah, Abraham and Isaac, Moses, Salomon and the Queen of Sheba,etc.
Walking south through Via dei Calzaiuoli there's time to enjoy some window and souvenir shopping before we reach the Orsanmichele, where some very nice sculptures of patron saints are stuck in the façade.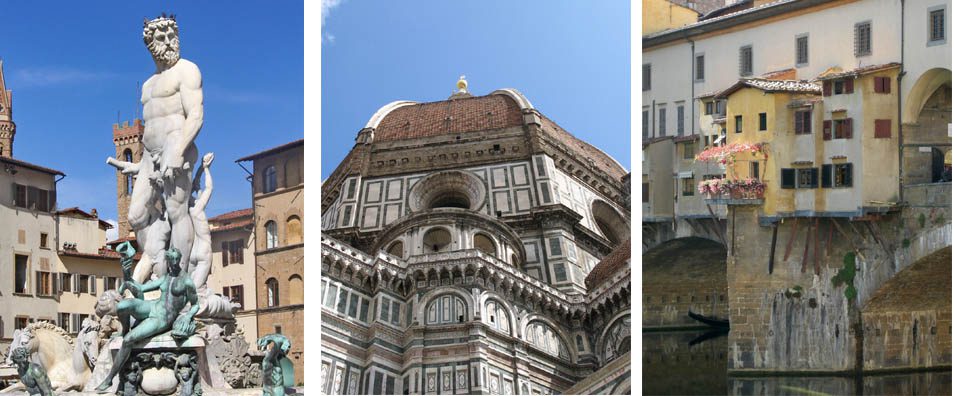 2 and 3 Piazza della Signoria and Ponte Vecchio
Further on is Piazza della Signoria which used to be the political centre of Florence. Admire the fortress-like Palazzo Vecchio, and the symbolic statues of muscular, naked men.
Go down Piazzale degli Uffizi to see where you have to queue for entrance to one of the most famous art museums in the World (unless you want to book tickets here). The alley ends on the banks of the Arno where there's a great view of Ponte Vecchio, which is the next stop on the must-see tour. The shops on the old stone bridge originally belonged to butchers and tanners, but now the smelly businesses have moved out and left the bridge to jewellers and pedestrians.
4. Museums and gardens
Continue straight out to the enormous Pitti Palace that houses several museums and art treasures. Behind the palace it's time to take a break in the Garden of Boboli. Literary travellers could climb the hill to the church San Miniato, which was the "view" from the room discussed by Lucy in EM Forster's novel, and enjoy a splendid panorama of Florence.
5. Dante's hood
Going back along Via del Monte alle Croci and crossing the Ponte alle Grazie bridge brings you to the small streets in the Santa Croce neighbourhood, where you can find the houses of long dead citizens like Michelangelo and Dante Alighieri. Head for the medieval Bargello castle which is prison turned museum and we are almost back where we started.
You could also start looking for a nice café or restaurant. Santa Croce is an untouristy residential neighbourhood that boasts some of the Florence's best eateries.