Five things to do around Lake Como
Five things to do around Lake Como points to some of the lesser attractions around Lake Como.
Guide books brim with suggestions on what to do in various parts of the world, which means that tourists are inevitably circling, pushing and queuing around the same places. This list points to some of the lesser attractions around Lake Como as an alternative or a supplement to the more popular Villa d'Este at Cernobbio, Villa Carlotta near Tremezzo and the beauty of Bellagio.
Photograph a paparazzi in Laglio
Italians are virtually obsessed with American film star George Cloony, who has bought no less than tree villas in Laglio on the west coast of Lake Como, where he stays once in a while. Chances of seeing Mr. Clooney are minimal, but if you happen to be in the neighbourhood, you might as well watch out for possible paparrazzis. They can be distinguished from ordinary tourists by the size and length of their tele lenses.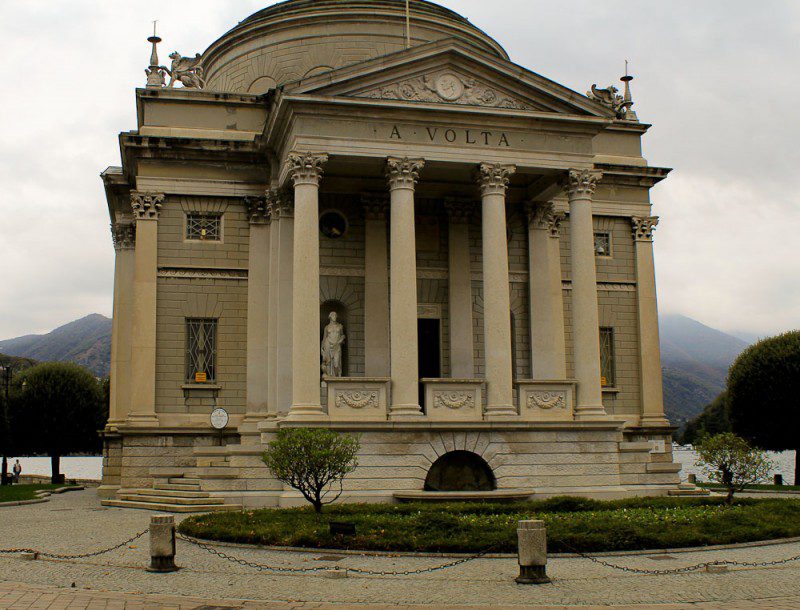 Hommage to a battery
It is hard to imagine a world without batteries powering mobile phones, pocket lights and mechanical toys, but this invention that shaped the modern world is little more than 200 years old. It springs from the shores of Lake Como, where physicist Alessandro Volta experimented with frog legs as conductors of electricity. From these experiments he derived the voltaic pile, and the rest is history as demonstrated in Tempio Voltaiano which is one of Como's more popular museums.
Walk with a view
A classic outing from Como city is a trip on the funiculare to Brunate 720 metres above sea level from where there is a fantastic view of Monte Rosa, Villa d'Este and the lake on a clear day. From Brunate there are two walking paths back to Como: One follows the funicolare and the other takes you past a former convent from the 15th century called l'Eremo di San Donato. Alternatively, you can walk further up from Brunate to San Maurizio, Cao or Monte Piatto, where you may find archeological excarvations along the way.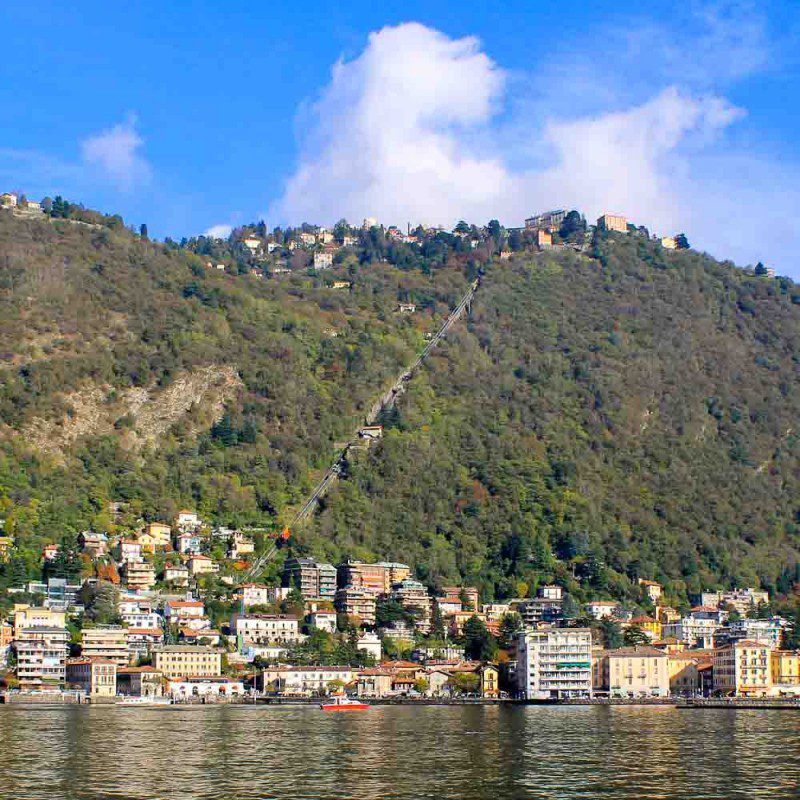 Explore the villas from the lake
Motorboats, rowboats, canoes and kayaks can be rented by the hour at several harbours on the lake. From here you can sail along the coast and explore faboulous villas like Villa Pliniana near Torno. Villa Pliniana is named after the spring that feeds a natural waterfall running through the house's courtyard. It was built in 1573 by Count Giovanni Anguissola, and it has housed people like Leonardo da Vinci, Napoleon, Rossini, Bellini, Verdi, Byron, Stendhal, Foscolo and Alessandro Manzoni whose novel I promessi sposi takes place in Lecco.
An industry of worms
Como has been the centre of European silk production for the last 4-500 years, when Milan assumed prominence as fashion capital. The first silkworms were smuggled out of China in the sixth century and several Italian towns took up the labour intensive business of raising and breeding silkworm. Production of silk thread stopped after the Second World War, in recognition of the fact that it takes 100 cocoons to make just one tie, but the comaschi still have the expertise in weaving and dyeing silk fabrics made from imported Chinese fibres. The story of silk production through the centuries can be studied at the Silk Museum in Como, and around the city there are several factory outlets offering high quality silk garments at really attractive prices.
This blog post was last updated with new photos in October 2020.