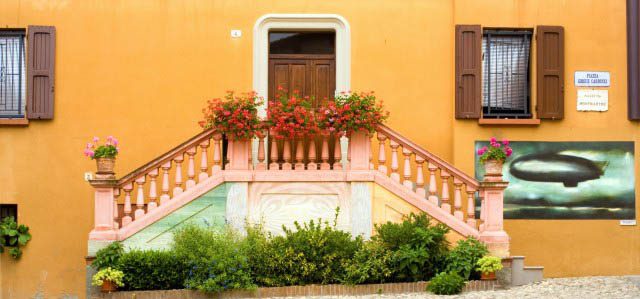 While more or less authorized street art takes over house exteriors in Rome and other big cities, residents and visitors in small town Dozza in Emilia-Romagna have long welcomed murals of a more permanent nature.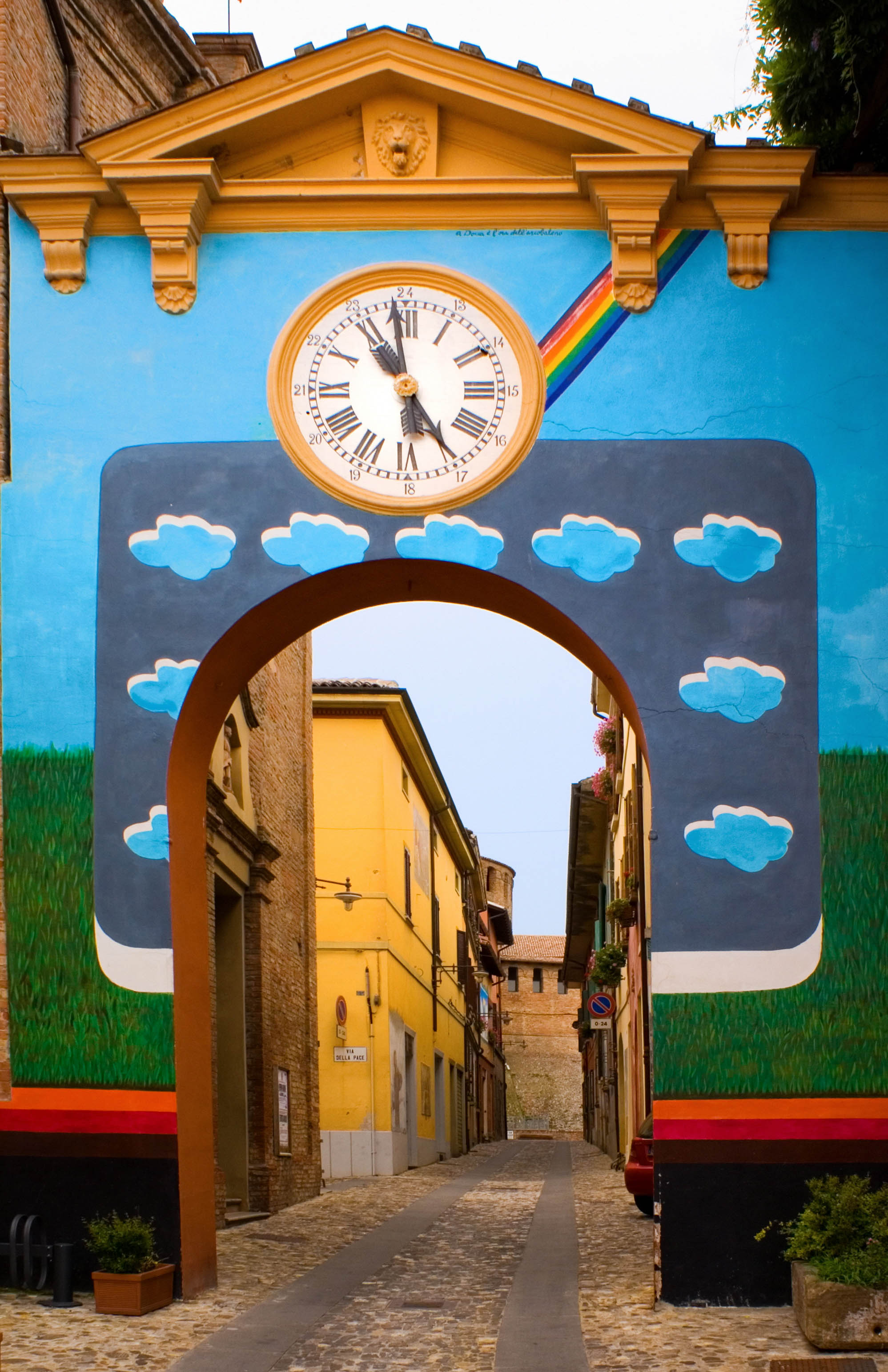 The name Dozza supposedly derives from 'doccia' – the Italian word for shower – because people in the Middle Ages would go here to bath, when most other places in the area suffered from drought and water shortages. An aqueduct led water from Monte del Re to a cistern in the hills a few kilometres to the south west of Imola, and when Dozza became a free commune in 1150 the town's coat of arms was designed with a lion-eagle griffon drinking water.
Instead of bathing water, today's visitors are given showers of fantastic food and interesting works of art. For a population of 6 000 people Dozza has a lot of really nice restaurants and even more wall paintings. Once every other year the town invites acknowledged contemporary artists along for a weekend known as the 'Biennale del Muro Dipinto', where new walls are decorated. The XXII festival was held in September 2009, and the initiative has transformed Dozza into an open air gallery.
The transformation of the historic village into a Città d'Arte started 50 years ago, when Dozza's Pro Loco Association introduced the concept of Muro Dipinto, and invited the first team of artists over for a weekend. It was in June 1960, and unfortunately the event drowned in rain. Water poured down incessantly, so that locals and the few visitors who had come to witness the work in progress had to take turns holding umbrellas over the artists and their work. The weather helped to make the event unforgettable, and ever since then new artists have been asked to contribute to the Muro Dipinto at regular intervals of two years. So far, well-established Italian names such as Roberto Matta, Bruno Saetii Licata, Aligi Sassu, Remo Brindisi, Norma Mascellani, Concetto Pozzati and Alberto Sughi have all left their mark on Dozza. By now paintings cover most of the wall space available in the village.
The only undecorated building seems to be the medieval castle, which local nobility erected in the 14th century. Rocca Sforzesca is amazingly well preserved and serves as a museum where you can see utensils used in a medieval kitchen along with a well-equipped armoury and prison cells. The castle also houses a permanent exhibition of art complementing the works that can be seen in the surrounding streets.
Any visit to Dozza culminates at a restaurant serving local specialities. Some of them so refined and delicate that they almost qualify as small works of art.
https://italiannotes.com/wp-content/uploads/2012/06/Dozze-Creative-Commons-by-loriszecchinato-e1359714682413.jpg
299
640
Mette
https://italiannotes.com/wp-content/uploads/2014/12/logo.jpg
Mette
2010-05-10 07:25:00
2015-03-25 18:19:52
Dozza - Art towns in Italy