Insalata di cetrioli e rabarbaro
The Nordic cuisine has become highly fashionable over the past years, and one of the really traditional dishes or accompaniments is a cucumber rhubarb salad .
Cucumber rhubarb salad  can be used as relish with fatty food like hotdogs, sausages and hamburgers, as decoration on classic open-faced sandwiches, or served as accompaniment to main courses like chicken, roast or minced beef, meat-balls. I am not too keen on the potato-gravy regime, but I like a good homemade cucumber salad which is refreshingly sour and a great shock to the taste buds when served with chicken or meat after a pasta course.
In this recipe I have given the traditional cucumber salad a pretty looking twist by adding rhubarb, but you can of course make it with cucumbers alone.
Ingredients
1 seedless cucumber
2 stalks of rhubarb
50 ml water
50 ml white vinegar
3 tbsp sugar
salt, pepper
Preparation
Wash cucumber and rhubarb and slice the greens in very thin slices.
Bring water and vinegar to the boil and dissolve sugar in the marinade.
Spice with plenty of salt and pepper.
Cover the cucumber-rhubarb slices with the marinade and leave it the fridge for some time until the cucumbers have softened.
Cucumber rhubarb salad will keep for a day or two in the refrigerator, but it is best when served on the same day.
Cucumber rhubarb salad and other rhubarb recipes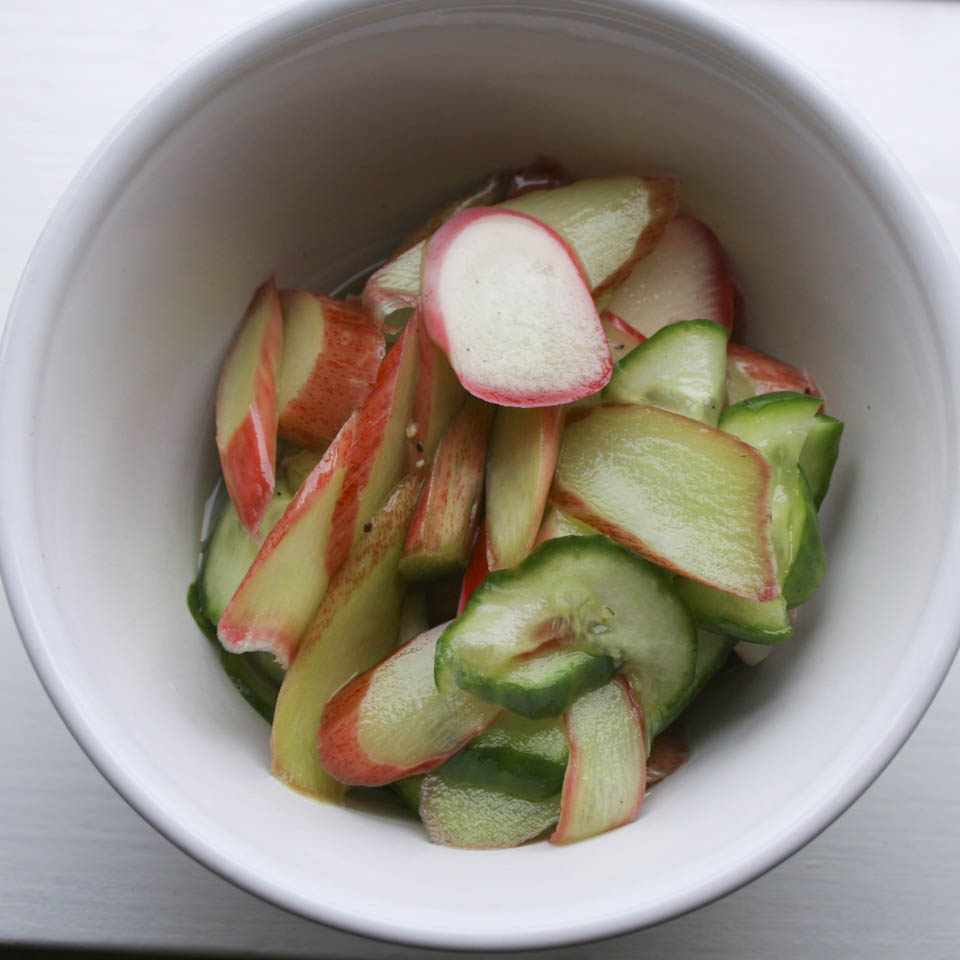 https://italiannotes.com/wp-content/uploads/2012/07/Cucumber-and-rhubarb-salad-e1359542931971.jpg
240
640
Mette
https://italiannotes.com/wp-content/uploads/2014/12/logo.jpg
Mette
2010-06-10 10:52:00
2017-01-08 16:50:14
Cucumber rhubarb salad