A Dream Cream
Crema Catalana
Given the choice between crema catalana and crème brulee or panna cotta, I'd go for the Spanish version anytime.
Crema catalana is softer and smoother than crème brulee and panna cotta, even though it does not contain cream. It has more flavour thanks to the addition of lemon zest and cinnamon. And then there's the magic contrast between the hard crack of the sugar rink and the mellow coolness inside. It's a dream cream.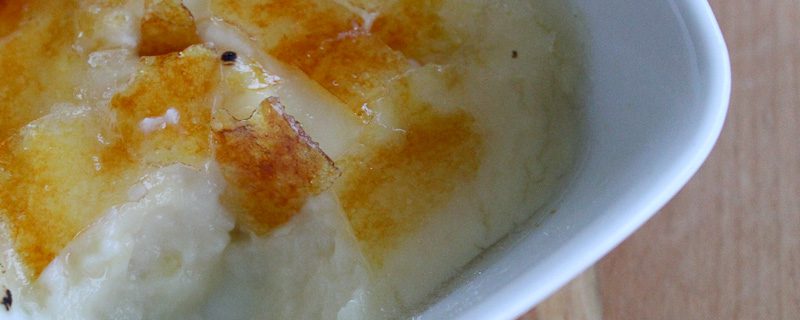 Ingredients
500 ml milk
1 lemon zest
4 egg yolks
1 cinnamon stick
1 tbsp cornflour
200 g sugar
Preparation
Heat up milk with lemon zest and cinnamon.
Let it simmer for 10 minutes.
Whisk the egg yolks with 2 tbsp sugar until the colour is pale yellow and sugar grains can no longer be detected.
Add cornflour and blend it into the egg mixture.
Stir a little of the hot milk into the egg mixture to minimize the temperature chok. The pass the rest of the milk into the mixture through a sieve. Discard lemon zest and cinnamon.
Return the mixture to the pan and heat it through until the crema catalana begins to thicken.
Stir the cream vigorously with a wooden spoon to make it very smooth.
Pour the crema catalana into 4 ramekins and cover each of them with cling film placed directly on the cream to prevent skin and condensation.
Leave the crema catalana to cool in the fridge.
Sprinkle the cold crema catalana with 1 tbsp sugar each, and use a blowtorch to caramelize the sugar. If you haven't got a blowtorch the oven grill can be used instead.
When the sugar has hardened the crema catalana is ready to serve.