Torta al cocco
Use this Coconut cake recipe to make a cake that is crispy on the outside with a moist and creamy heart. And a squeeze of lemon and lime to balance the sweetness.
Recently someone asked me what the Pugliesi have for dessert in the summertime, and come to think of it the answer is rather boring. From what I've seen, they all seem to have anguria watermelon and Carte d'Or ice cream, unless it's a more formal dinner, where the guests have brought the statutory gift tray from the pasticceria. Not a lot of fun for a dedicated home cook and recipe collector, so I tend to seek inspiration elsewhere.
This recipe was found in an old Italian food magazine, where it was highly praised for being rich and creamy inside and crispy on the outside. I reduced the fat a little, and it's still highly recommendable – though not exactly a diet thing. So just close your eyes and enjoy the sweetness.
Ingredients
220 g sugar
4 eggs
80 g flour
1 tsp baking powder
250 ml (2½ dl) double cream
150 ml (1½ dl) milk
125 g melted butter
90 g shredded coconut
Icing sugar
1 lemon – juice and zest
1 lime – juice and zest
Preparation
Whisk eggs and sugar till white.
Stir in flour and baking powder.
Gradually add shredded coconut, lemon and lime juice, melted butter, cream and milk.
Line a flat square baking dish with parchment paper and pour in the cake mixture.
Bake for 45 minutes at 175 C (350 F)
Leave the coconut cake to cool before sprinkling with powdered sugar and shredded lemon and lime zest.
More great cakes like this coconut cake recipe
Danish pastry recipe – butter cake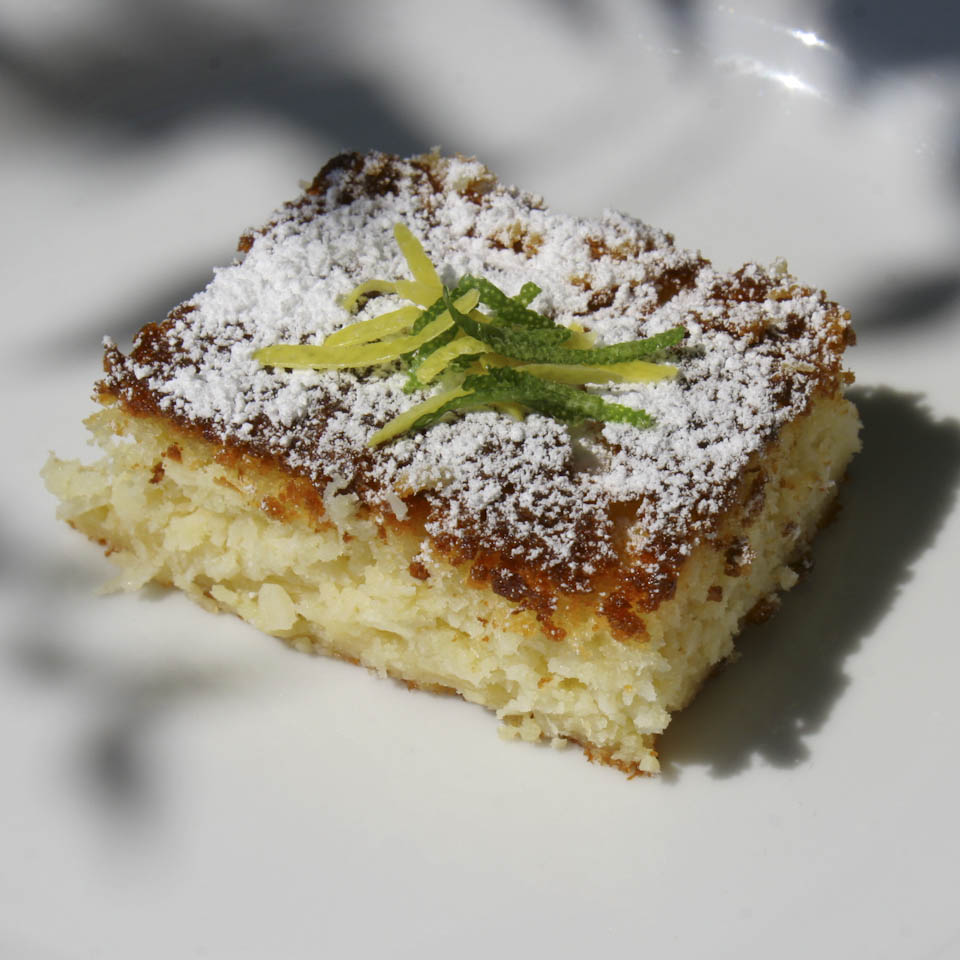 https://italiannotes.com/wp-content/uploads/2012/07/Coconut-cake-recipe-1-e1361368525893.jpg
240
640
Mette
https://italiannotes.com/wp-content/uploads/2014/12/logo.jpg
Mette
2011-06-26 17:09:36
2013-10-12 16:31:28
Coconut cake recipe