10 gifts with a taste of Italy
Italian gourmet food never fails as an edible souvenir and gift item. Here are 10 ever popular gifts with a taste of Italy.
Frequent travels to Italy gives you a good idea of what souvenirs to bring home for family and friends, and in my experience food never fails. Most people enjoy specially imported delicacies that are hard to come by in ordinary supermarkets and find the introduction to new produce interesting and inspiring. Here is a list of 10 things that will keep in gift wrap  – with links to online suppliers, if you are not going to Italy.
Aceto Balsamico di Modena
Balsamic vinegar from Modena is a great condiment for strawberries, cheese and sausages (but not for salad dressings) and it is phenomenal for giving a sauce the right balance between sweetness and acidity. True balsamic vinegar is based on syrup of pressed grapes aged for 12 years in a succession of wooden barrels, which makes it very expensive, but less costly versions can be obtained from in all Italian supermarkets.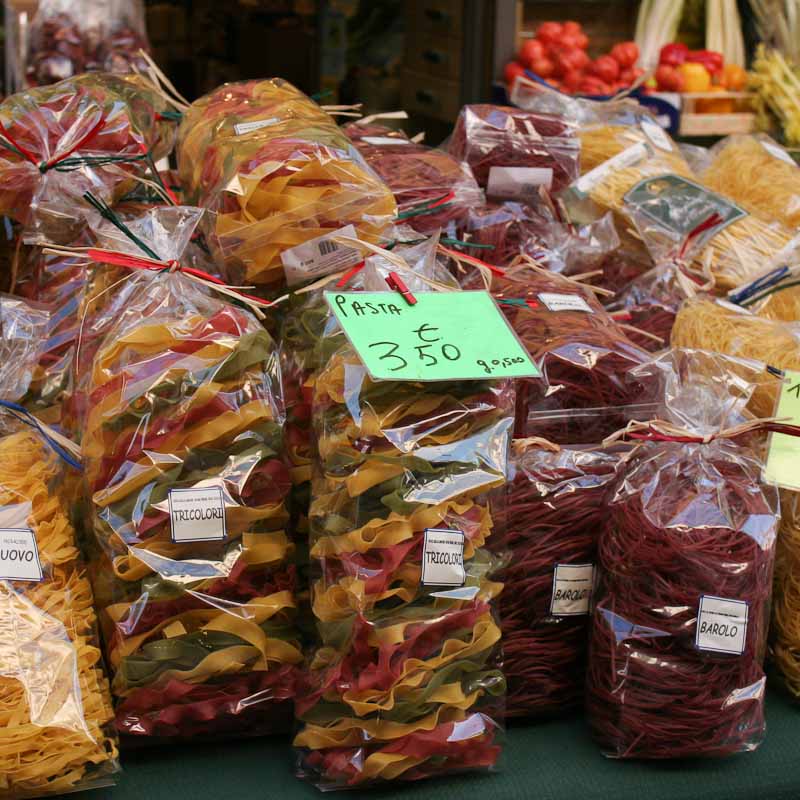 Dried pasta in souvenir package
Spaghetti
In spite of the quality and variety, packets of Barilla or De Cecco seem too boringly ordinary for gift giving, but artisan pasta
coloured with red wine, spinach, tomatoes, squid ink, etc. and hand made in every imaginable shape are readily available from specialty stores.
Every one uses canned tuna once in a while, and the best kind is preserved in olive oil. Tonno all'olio di oliva seems more fresh and delicate than similar products, but it can only be bought in Italy or from Italian shops, which is why I always keep some in stock for sandwiches, salads and starters. The same goes for salted anchovies.
Preserves
Italian supermarkets abound with preserved vegetables in decorative jars. Among the classics are artichokes, chilies stuffed with tunafish, olives, onions, peppers, tomatoes and eggplants, etc. that make lovely antipasti when served with ham and salami. Alternatively, you can make your own Italian preserves and use them as a give away.
Peperoncini
Dried chilies
will keep forever and come in handy every time you need to spice up a stew or a tomato sauce. You can buy them on strings as brightly colures festoons or in jars and bags as tiny chili pods or flakes all over Basilicata and Calabria. Further north in Umbria, Marche, Tuscany and Piedmont I'd look for dried mushrooms to bring home.
Truffle
Widely recognized as a outstanding delicacy, Italian truffles
make an extravagant gift. Both white and black truffle are sold in small glasses, and if the real thing is above your budget, you might get a similar effect from truffle oil, truffle paste or truffle butter.
Amarena
Fabbri's wild cherries
in syrup are legendary not least due to the pretty white ceramic crock with the characteristic blue lettering. And if you can't get hold of the syrup, there are always dried cherries on sale at the market.
Cantuccini
If Amerana cherries are Italy in a jar, cantuccini almond biscuits
represent Italia in a box. These stone hard Tuscan cookies are traditionally served with vin santo, but I find them even better when dipped in cappuccino and eaten for breakfast.
Panforte
This traditional spicy fruitcake originates in Siena and people from this city claim it should contain 17 different ingredients – one for each of the 17 contrade within the city walls. Panforte
is sold as a souvenir in Tuscany all year round, but to some of us dried fruit and nuts combined with spices like cinnamon and all spice are a seasonal thing. In other parts of Italy, you could look for the Torrone (French Nougat) and other easily packable, sweet treats. Or you can bake a panforte from scratch following this recipe.
Panettone
Around Christmas mountains of cardboard Panettone
boxes fill Italian supermarkets. This sweet bread with raisins and a taste of saffron is extremely light and tall, and even the Italians use it as Christmas give-away much like the colomba pasquale that flies everywhere at Easter.
This post was last updated in December 2016.