Charmed by Montepulciano: Even out of season the beauty and sensuality of Chianti in Tuscany is marvelously outstanding.
Tuscany and Provence are among the few places in Europe with their own hyped brand. Just say the word and people start associating to decorative ocher paint, rustic stone houses, fragrant herbs, medieval fortress towns, slender poplar trees, stately sunflowers, striped vineyards, rocking hills and eternal sunshine along with art, food and wine world. And the beauty and sensuality of Tuscany is marvelously outstanding.
As could be expected all hotels were fully booked, when we arrived in Montepulciano in the late afternoon one cool spring day after a round trip between the terms of the Val di Chiana Senese. Along the road was one agriturismo after the other, luring passing tourists inside, but in town there were no vacancies. Fortunately we found a small affitto camera, just outside the city walls, and although the owner was not home, her old mother welcomed us, handed out the key to a tasteful room with the most fantastic view and asked us to put money on the dresser before departure the next morning.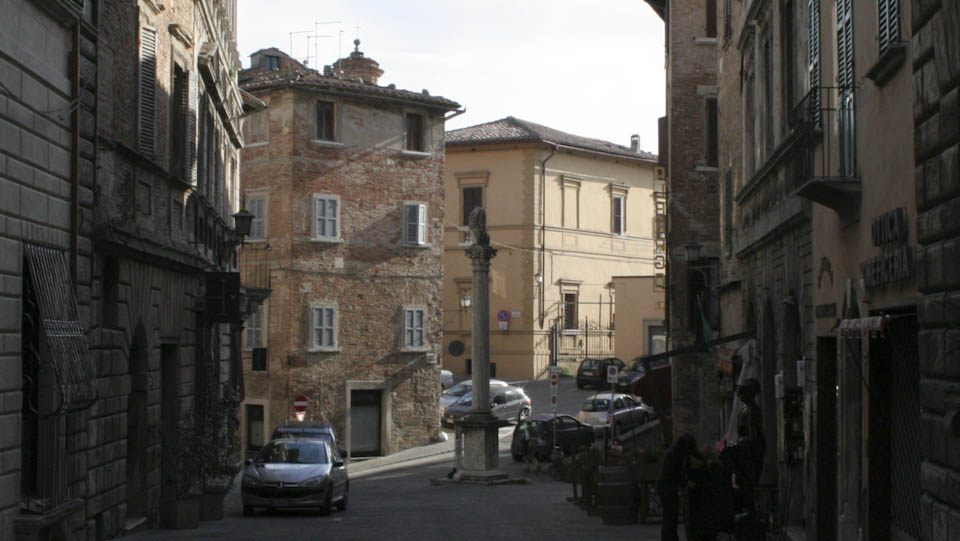 When we returned to the city's crooked streets, darkness had taken all people, and you got the feeling of being lost in Tivoli Gardens after closing time. The lights were out in the flats, the Enoteca and gelateria had rolled down the shutters and the two children skateboarding down the church stairs, hurriedly returned home. We walked around for an hour and looked at one restaurant after another, but at all guesthouses the only living creatures were employees. Apparently the tourists occupying the hotels had better things to do this evening.
At long last we managed to find a packed restaurant just inside the Porta al Prato. The interior was a cliché with red chequered tablecloth,s candles and a menu offering crostini della casa, ie salami, liver pate and tomato served on slices of old bread. At this point I always get a little fed up, for who wants to eat an uninspired open sandwich for starters, when you expect a culinary Italian treat. Sometimes Cucina Italiana seems like a rather cheap concept that can only be swallowed with copious quantities of Vino Nobile.
Maybe this explains the absence of local guests at the restaurant. The language spoken at the other tables were mostly foreign. The local youths and pensioners had gathered in a small park just outside the gate, proving that there is life Montepulciano after darkness. So next time I visit the city, I will hunt for authentic, crostini-free and crowded restaurants outside the city walls. There must be some.
If you too are charmed by Multepulciano you might also like
https://italiannotes.com/wp-content/uploads/2012/06/Charmed-by-Montepulciano-e1360494681417.jpg
240
640
Mette
https://italiannotes.com/wp-content/uploads/2014/12/logo.jpg
Mette
2009-09-14 17:30:00
2019-11-19 12:34:08
Charmed by Montepulciano