Ravioli con ricotta
The secret behind fresh ravioli with ricotta filling and other good homemade pasta is hard work. You really have to knead the dough thoroughly for a long time in order to obtain a passable texture. That's why pasta machines are a tremendous help.
Another secret is the absence of eggs – at least to begin with for the inexperienced pasta maker. Most pasta recipes operate with one egg for each serving, which would be enough put an entire family down with acute cholesterol chock. Especially, if you are Italian and eat pasta every day. In my experience, eggs tend to make the pasta heavy and soggy, while I prefer a lighter, fluffy version. The south Italian housewives I have consulted also ban the use of eggs, except perhaps for filled pasta, but they are not that orthodox in their pasta with or without eggs habits. Still, none of them would ever dream of adding salt to the dough. Pasta should be salted though the boiling water. Basta.
As long as you follow these three rules, the result will be truly awesome.
Ingredients
For the pasta:
250 g pasta flour
200 ml tap water
For the filling
150 g fresh ricotta
4 tbsp grated parmesan
1 tsp grated nutmeg
For the sauce
50 g shelled walnuts
1 garlic clove
50 ml olive oil
2 tbsp crunchy fried pancetta or prosciutto crudo in tiny cubes
Preparation
Make a volcano of flour on a clean table. Pour a little more than half the water in the middle of the mount and use a fork to stir in flour. Add more water gradually, till you have a tough dough. Use the heal of your hands when the fork is no longer useful and knead the dough together. Keep kneading for at least 10 minutes or use a pasta machine.
Run the dough through the pasta machine once. If the edges are frayed, add more water, and if the dough seems sticky, add more flour. Roll the pasta through the machine at least ten times at max width (to make up for ten minutes kneading).
Keep rolling the dough to a thin sheet, while you decrease the width gradually, one step at a time. Cut the pasta out in squares or circles.
Leave the pasta on wire rack covered by a clean tea towel.
Mix ricotta with grated parmesan and nutmeg for the filling.
Put the mixture in a plastic bag, cut off one corner, and place a top of filling on every other pasta square/circle. Cover with another pasta square/circle, and make sure to press the edges together. If the dough has the right texture, the pasta will close tight around the filling, but you can seal too dry pasta shapes with a drop of water.
For sauce pound walnuts and garlic in a mortar. Fry the mixture lightly in olive oil.
Fill a large pan with water and bring it to the boil. Add 1-2 tbsp salt. Boil the ravioli 3-4 minutes until they are al dente. Drain and place in a warm service dish with sauce and a topping of fried pancetta.
Other homemade pasta recipes to supplement fresh ravioli with ricotta filling:
Homemade ravioli recipe with radicchio filling
Tasty pecorino stuffed ravioli from Sardinia – Culingionis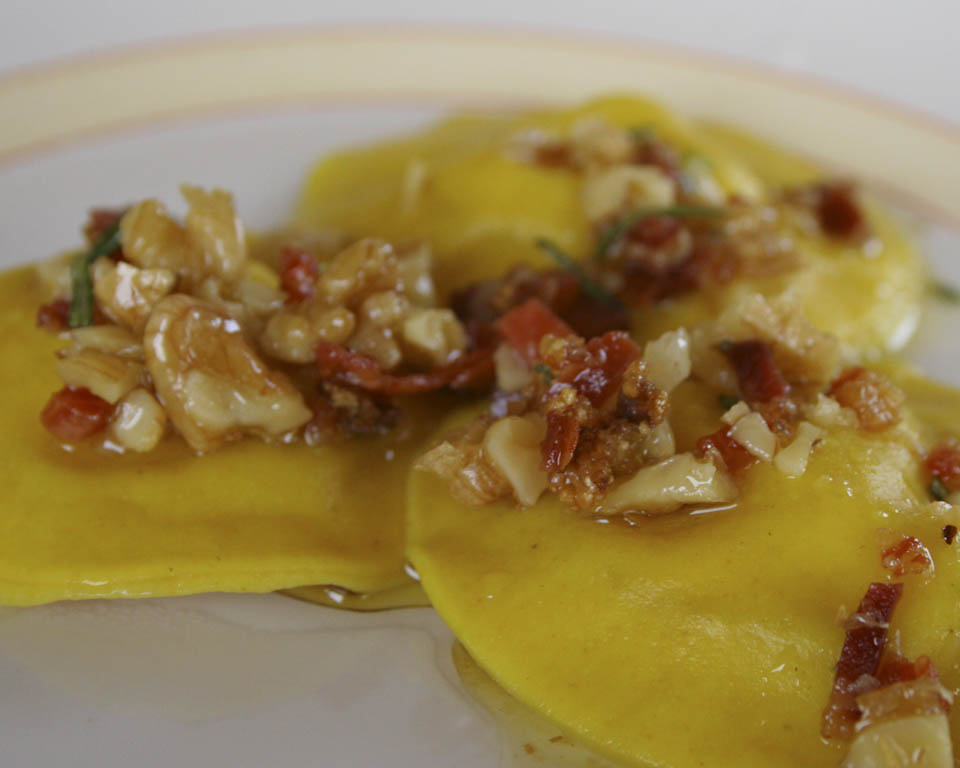 https://italiannotes.com/wp-content/uploads/2012/06/Fresh-ravioli-with-ricotta-filling-e1360149972705.jpg
240
640
Mette
https://italiannotes.com/wp-content/uploads/2014/12/logo.jpg
Mette
2010-01-22 14:35:00
2017-09-13 18:42:44
Fresh ravioli with ricotta filling