Visiting the Blue Grotto on Capri is a challenge. But pure magic rewards those who make the strenuous adventure.
– No way am I going through that crack in the rock, I though, viewing the waves smash against the perpendicular cliffs and hanging on to the railing of the overdimensioned dinghy that had taken us around the island from Capri town.
At school we had read Hans Christian Andersen's description of his travels south of Rome to Capri's blue cave "where all gleamed like the ether" and "the water below us was like a blue burning fire", but somehow I had skipped the part about a little opening, hardly large enough for a boat. And even if I had read about it, I would have thought a major tourist site would have experienced some infrastructural improvements over the last two centuries.
I was not prepared for climbing from one small boat to an even smaller boat at high sea, or for holding my breath and stretching out in the bottom of a boat, while the rower used his hands to guide our way through the narrow entrance. But having come this far, there was no turning back.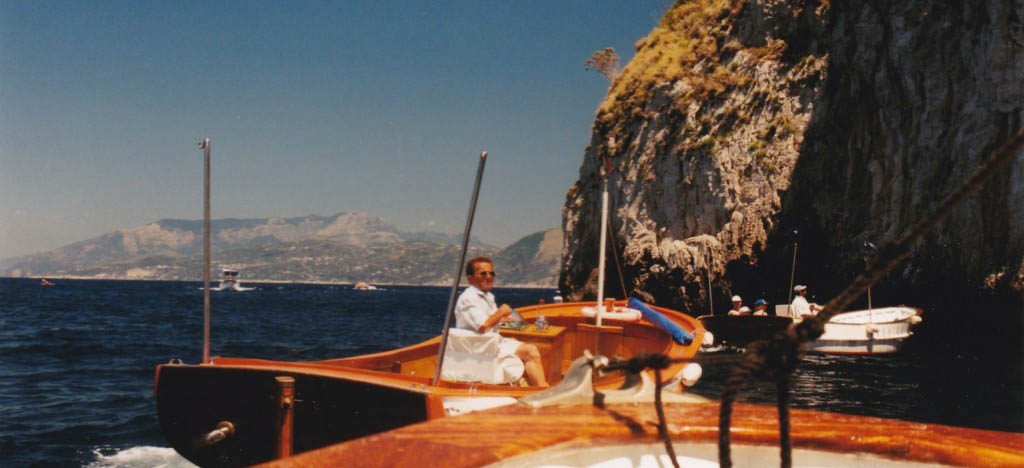 Inside it took me a moment to adjust to the light before I could see the outlines of the vault and the other rowing boats gliding around and hear rower sing a not untalented, personal interpretation "Torna a Surriento". I also spotted the light that entered the cave through the small opening and created the magic blue colours, although I would have described it in a more prosaic way than the old master of fairy tales. Still, Hans Christian Andersen's impressions from Capri published in The Improvisatore capture the wonder of the place.  And if you read the text, you can almost see the Grotta Azurra before your mind's eye – without a rocking boat climbing challenge:
"By this means the strong sunshine outside threw a light within upon the floor of the grotto, and streaming in now like a fire through the blue water, seemed to change it into burning spirit. Every thing gave back the reflection of this; the rocky arch – all seemed as it formed of consolidated air, and to dissolve away into it. The water drops which were thrown up by the motion of the oars, dropped red, as if they had been fresh rose-leaves. It was a fairy world, the strange realm of the mind."
Other sights in Campania
Sorrento holidays in Vico Equense
Salerno Italy – Sights and activities
https://italiannotes.com/wp-content/uploads/2012/07/Blue-Grotto-Capri-e1360929450827.jpg
240
640
Mette
https://italiannotes.com/wp-content/uploads/2014/12/logo.jpg
Mette
2011-02-16 12:36:16
2016-08-18 18:54:40
Blue Grotto Capri: Magic blue behind crack in rock wall