Bustrengo
Bustrengo is a rather heavy breakfast or tea cake made from polenta and apples. Bustrengo is mostly served in Emilia Romagna.
The breakfast buffet at Hotel Americana in Trento contains a really nice cake made from polenta and apples, but I have failed to get hold of the recipe. Instead I have tried Jamie Oliver's bustrengo and modified the ingredients a bit, as the first result became too pudding-like for my taste.
This version is moist and filling. Without additional spices it has some of the Trentino taste, and it gets better a day or two after being baked.
Ingredients
90 g (1½ dl) polenta (cornmeal)
180 g (3 dl) plain flour
120 g (1½ dl) sugar
100 ml (1 dl) runny honey
4 eggs
100 ml (1 dl) olive oil
4 apples
5 (1 dl) dried figs
3 tbsp (1 dl) raisins
1 tsp salt
Powdered sugar for dusting
Preparation
Core, peel and chop the apples.
Soak chopped figs and raisins in boiling water.
Mix polenta, flour, salt and sugar in a large bowl.
Stir eggs, honey and olive oil in the dry ingredients with an electric mixer.
Press the water from figs and raisins and fold the fruit including apples in the cake mixture.
Pour the mixture into a greased baking tin and bake for 50 minutes at 180 C (350 F)
Dust the bustrengo with powdered sugar when cold.
If you like bustrengo you might also want to try
Apple spice cake with aniseed, cardamom and cinnamon
Apple cake with walnuts and amaretti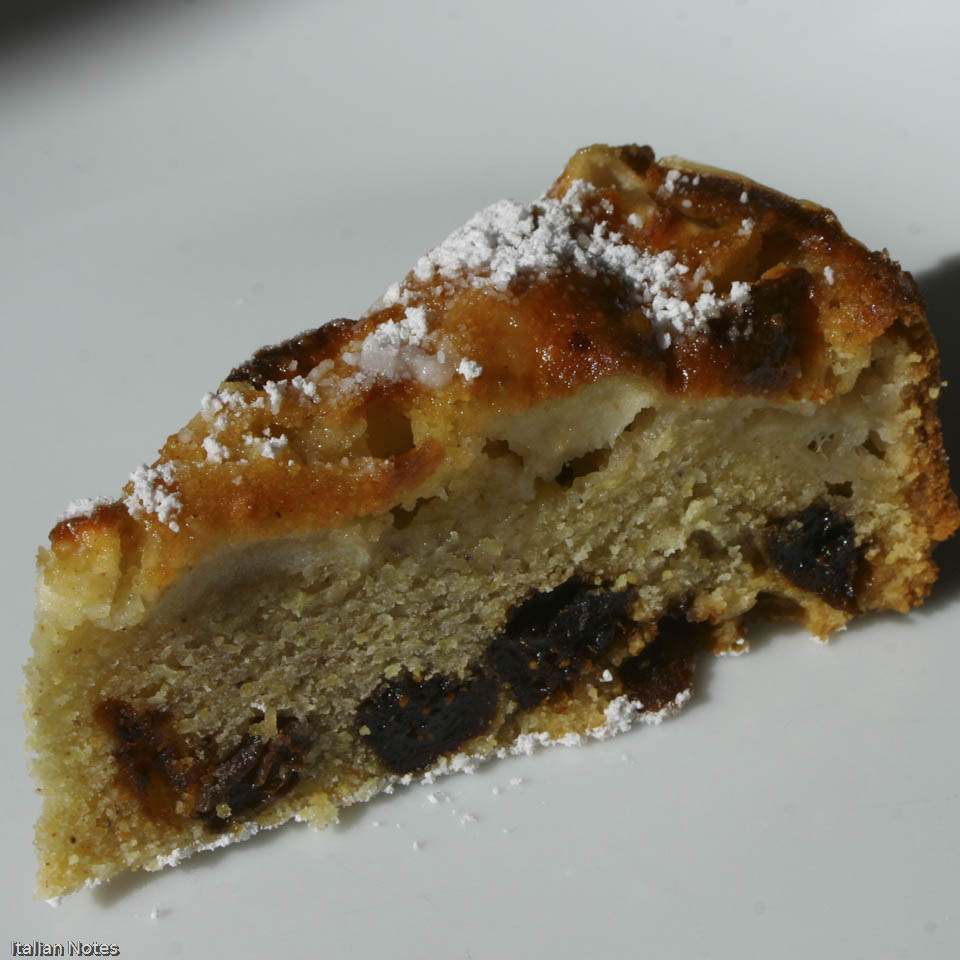 https://italiannotes.com/wp-content/uploads/2012/07/Bustrengo-Polenta-and-apple-cake-e1359542062700.jpg
240
640
Mette
https://italiannotes.com/wp-content/uploads/2014/12/logo.jpg
Mette
2010-09-29 15:12:00
2015-02-15 14:40:33
Bustrengo Polenta and apple cake