Braised beef in wine
In Puglia the most typical cold-weather food is steaming hot stew with a intense flavour after hours simmering on the stove like this braised beef in wine .
The in Puglia prefer their stews with horse meat. I know it is irrational (and that north Europeans also ate horse meat 50 years ago), but I can't quite get myself to cook up a cute little pony, so my stews are made with beef and lots of our local primitivo.
Ingredients
1 kg beef in big cubes
2 tbsp flour
1 onion
2 cloves of garlic
2 carrots
½ lemon
2 stalk of celery
2 Bay leaves
1 cinnamon stick
1tsp pepper corns
Fresh rosemary, salvie, thyme.
1 ltr Primitivo (or similar fruity red wine)
Preparation
Brown meat in olive oil and sprinkle it with flour.
Remove meat from the heat while frying  the chopped onion and garlic.
Add carrot, celery, herbs, cinnamom, bay leaves and pepper and fry a bit more.
Return the meat to the pot, cover with wine and let it boil vigorously for a few minutes.
Turn down the heat, add the sliced lemon, put on a lid and let the stew simmer for a couple of hours, until the meat is very tender.
If you don't like well-boiled veggies, you can mash them into the sauce, which should be thick and jellied.
Serve the braised beef in wine with bread, mashed  roots or polenta and enjoy.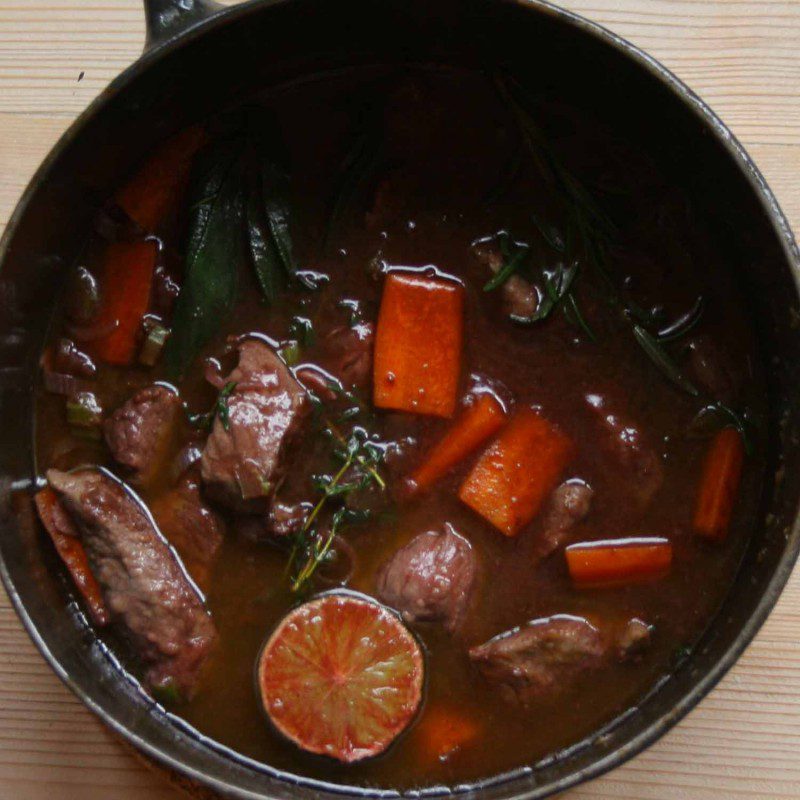 Recipes similar to braised beef in wine
Braised beef with porcini mushrooms
Beef with olives, capers and anchovies