Best Italian street food
What to look for and where to find the best Italian street food
Every Italian region has its own street food specialties along with the all Italian caldarroste. Here's a list of What to look for and where to find the best Italian street food.
The first weekend of October, you can taste street food from all over Italy, when the Festival Internazionale del Cibo di Strada hits the historic centre of Cesena.
The local Slow Food movement assisted by Vittorio Castellani aka Chef Kumalé has arranged a programme of workshops, tastings and talks on international and Italian street food making it possible to sample a lot of regional and international specialities. Between the food stalls there will be theater and musical performances as well as white night admissions to Cesena's museums and sights. It'll be a blast.
Those of us who cannot be in Cesena between 1.-3. October may find comfort in this list street food from various Italian regions. It will help to guide us away from the nearest McDonalds towards more refined local tastes.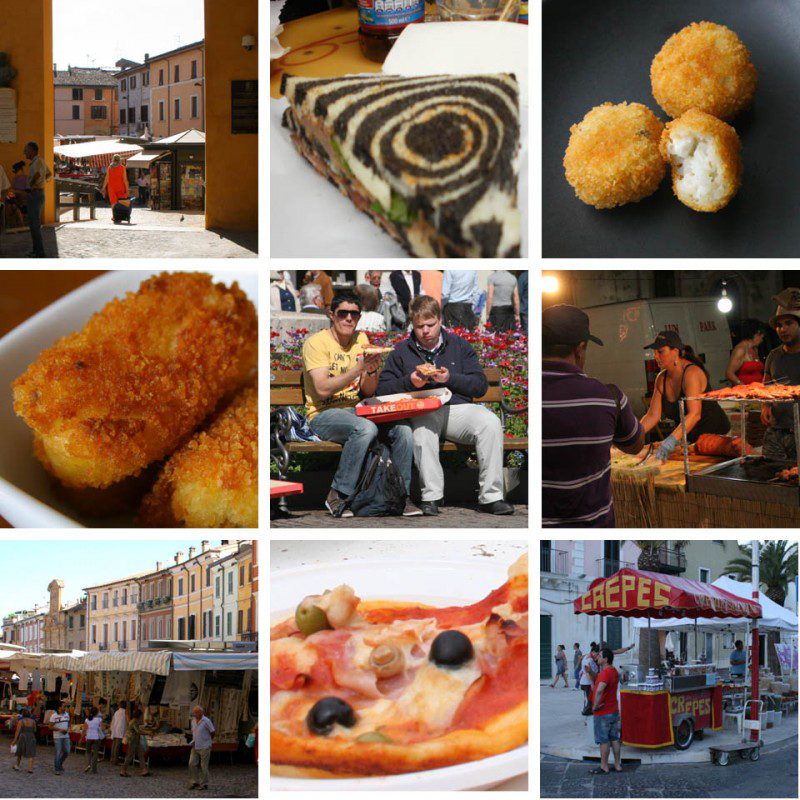 Alto Adige
Sausages, sauerkraut and mustards reveal the German and Austrian influence on the street food of Alto Adige. Her you can find a münchner weißwurst made from finely minced veal, pork and herbs and served with sweet mustard and a brezel (ie. pretzel). Rustic flavoured breads like ur-paarl and gekochtes vinschger. And the Italian version of fermented cabbage.
Campania
Having invented one of the most popular street foods worldwide, you'd think Campania is all about pizza, but they have a lot more to offer. Like the fish soup with dried beans and squid known as brodo di polpo. Scagliuozzi which are deep fried polenta triangles to be found all over south italy. Potato crocchè or croquettes. And Zeppole pastries that resemble doughnuts.
Emilia-Romagna
This region is particularly rich on salami, sausages and cold cuts served with various kinds of bread like the popular piadini and crescioni wraps that are now sold in supermarkets all over Italy. Another bread snack is the savoury fried dough torta fritta, which tastes delicious and is very difficult to make at home. Last time I tried it, the dough exploded in my face leaving a number of serious oil burns, so for the time being I leave that recipe to the street vendors. A cone of fried fish – pesce fritto al cono – is easier to handle.
And then there's the unforgettable, thin and tasty potato pancakes tortello nella lastra. I had one of those in the hills south of Modena many years ago, and despite diligent search I haven't been able to trace another vendor, which is a great shame.
Liguria
Represented byfugassa e fainà da Genova which some experts believe to be the original focaccia.
Puglia
Slices of cured ham and bacon rolled around a piece of cheese and grilled over charcoal make up the bombette da Alberobello and then there are the small bite-sized calzone known as panzarotti which is originally from Puglia although a freshly made, non-prefab version can be hard to find.
Sicily
The most famous Sicilian street food is undoubted the fried rice balls Arancini di riso. But Sicily has also developed a deep-fried, chickpea polenta known as panelle that is quite similar to Scagliuozzi. A Palermo styled deep-pan pizza with tomato and onion sauce called sfincione. And pani ca' meusa – a burger bun stuffed with chopped veal's lung and spleen.
Tuscany
Another kind of tripe is served on the streets of Florence as lampredotto bollito e trippa alla fiorentina. The first is boiled stomach of cow served in a kind of sandwich, while the second is a stew based on tripe. Both are said to be really additive.
Best Italian street food and other snack recipes