Driving along via Traiana Italy I was anxious to find a place to eat, after having read how Horace almost missed his dinner in Benevento 2000 years ago. 
The queen of the roads, Via Appia, was constructed more than 2250 years ago, at a time when men still dressed in sheets, and although the original stones are now covered in asphalt, the track remains, giving a nice kind of perspective to a road trip from Brindisi to Rome.
We started out on the Via Traiana – better known as the motorway between Bari and Napoli – around sunset and reached Benevento in darkness and pouring rain at nine in the evening. At that time the narrow streets in the old town were teeming with teenagers, who braved the weather and the deafening techno for a night out. And a 'Festival internazionale di teatro universitario' added to the youthful atmosphere.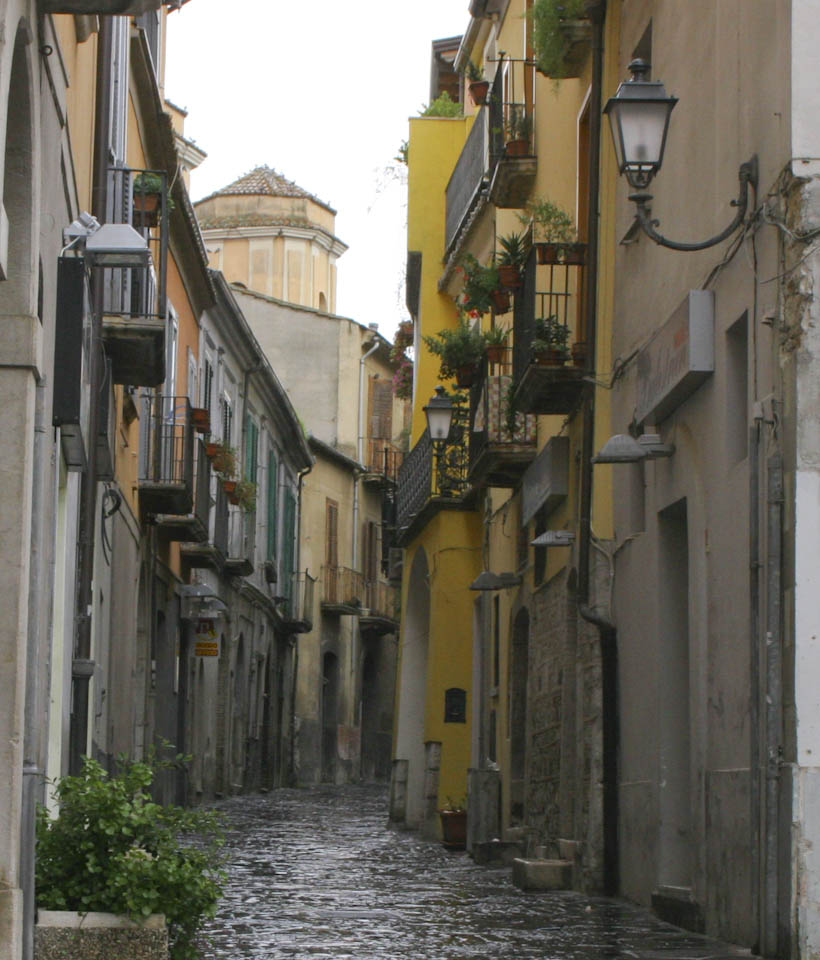 I had read how Horace almost missed his dinner in Benevento 2000 years ago, and was eager to find a place to eat. In Satire V
Horace wrote:
Next morning we to Beneventum wend.
Here, while our host did sedulously tend
His meagre thrushes roasting by the fire,
To the old roof the rushing flames aspire
Now, scrambling in confusion, you might see
How active all could in a moment be
The flames to smother, and the dinner save;
Snatched up by hungry guest, and trembling
slave.
With this is mind, we settled for Taverna Paradiso named after Sylvester Stallone's movie Paradise Alley in Hell's Kitchen, and they had neither open fire nor thrushes on the menu. Instead we were offered the usual plate of local salumi with a rather original potato pie followed by huge slabs of meat and baked baccala that tasted exactly like the potato pie. The standard was – to quote Horace – Aurea mediocritas or a golden mean.
The meal was rounded off with a Tiramisu con mele, that seemed like a successful marriage between traditional cream based Danish apple cake and tiramisu, and when I asked the cook how he had come by that recipe, he shrugged:
– My wife is from Austria, and her grandmother has always been making a lot of cakes. Apple cake is one of her specialities, which I have merged with Italian mascapone and tiramisu. It is quite simple.
So with the rain and an apple cake the travelling Danes ended up feeling quite at home in Benevento.
Other notes like a stop on Via Traiana Italy
End of the Appian Way in Brindisi
https://italiannotes.com/wp-content/uploads/2012/06/Benevento-restaurant-Taverna-Paradiso-e1360321152944.jpg
240
640
Mette
https://italiannotes.com/wp-content/uploads/2014/12/logo.jpg
Mette
2009-11-30 16:35:00
2016-08-23 19:14:34
A stop on Via Traiana Italy