Panoramic bed and breakfast Genova
I honestly do not think you can find a better view than the one offered from  the Torre Ducale Bed and Breakfast Genova.  The place is positively mesmerizing. And very hard to let go again.
Driving to the old centre of Genova without gps is a stressful experience. There are so many different centres and narrow one-way streets blocked parked cars and steep mountain sides that you end up chasing your own tail. That was what happened to us, at least, so when we finally found a place to leave the car not too far from Porta Soprana, we had more or less lost our spirit of adventure. And the grumpiness grew to can't-wait-to-get-out-of-here heights, when a small misunderstanding meant we had to wait 30 minutes for our hostess Maria to show up.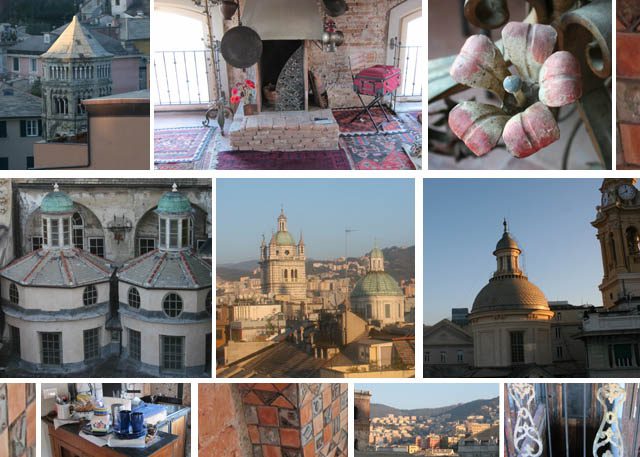 The ordeal evaporated the minute I opened the iron door and stepped into the room. The tower room was newly renovated and decorated with layers of oriental carpets and strings of antique ironmongery around an open fireplace. But the most striking feature were six panoramic floor to ceiling windows. With just a little help from the long, steep stairs leading up to the room, the view literally took my breath away.
We arrived late in the afternoon when the light was fading but could still see everything that went on in the square in front of the Palazzo Ducale opposite. And then lights went on all over the city, and left me floating through the glittering darkness like some spaceship invader. With a view like that, it is tempting to go out for a bottle of wine and a take-away pizza and eat in darkness at the old sewing table with all the curtains drawn.
The next morning the sun shone from a clear blue sky and revealed an old city rimmed by mountains. And I really wanted to stay another night – week – or month.
The tower room of Torre Ducale is popular among cruise ship guests, who have booked in advance. There is no sign on the door, and Maria made it very clear she does not admit just any guests who happen to pass in the streets. Visitors are also warned about the five floor stairs, as there is no lift in the building. And you make your own breakfast in the morning with an electric kettle and a plastic wrapped bakery product. But still, this Bed and Breakfast is about as close as you get to Genova heaven.
More on Liguria
UNESCO World Heritage in Liguria waiting to be explored
Autumn hunting grounds in Italy