Salmone in crosta di erbe
Baked salmon with herbs
Baked salmon with herbs is a delicate fish dish and so easy to prepare. Just dress a fillet or steak of salmon in herbs, bake it for 15 minutes and dinner is ready.  The fragrance is irresistible and even carnivores tend to like it.
Many fish recipes are so easy it seems unnecessary to write the down. Still, I wouldn't get round to serving pollack in tomato sauce or marinated anchovies without an indication of how to proceed. Which is why I'm sharing this preparation of baked salmon with herbs. One of the easiest fish recipes in my repertoire.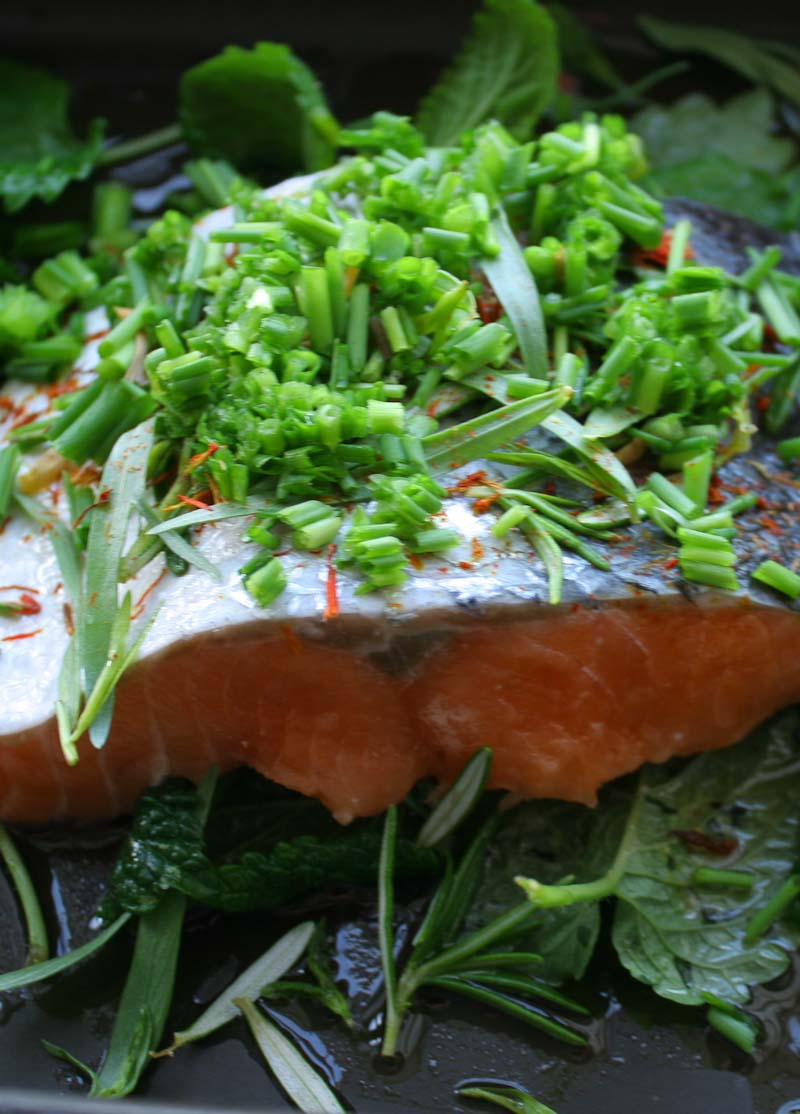 Ingredients
600 g salmon fillet or 4 salmon steaks
1 clove of garlic
Fresh rosemary, tarragon, lemon balm and chives
Pinch of saffron, salt and pepper.
olive oil
Butter knobs
1 lemon juice
Preparation
Peel the garlic, cut it in halves and rub it over the fish.
Pour olive oil in and ovenproof dish, and place the salmon fillet on a bed of fresh herbs.
Sprinkle the salmon with more olive oil, saffron, salt and pepper and plenty of fresh chopped herbs.
Leave it in the fridge for an hour.
Place some butter knobs on the salmon, add half the lemon juice, and bake it for 12-18 minutes at 220 C (425 F). It should be white on the outside and pinky moist inside.
Cover the baked salmon with herbs with even more fresh chopped herbs before serving.