Autumn in Piedmont
Five outdoor things to do in Italy in November
Autumn in Piedmont is ablaze with colours. Glowing red, orange, copper, yellow and green dye the foliage of the countryside in contrast to the growing grey and brown patches of bare ground. Morning mist gives the landscape a surreal quality. The air seems fragrant and full. And everything is so quiet you can hear a leaf fall.
It is the perfect time for a short, invigorating getaway.
Here's my list of five outdoor things to do in Piedmont in autumn. Apart from drinking red wine and eating pasta, of course.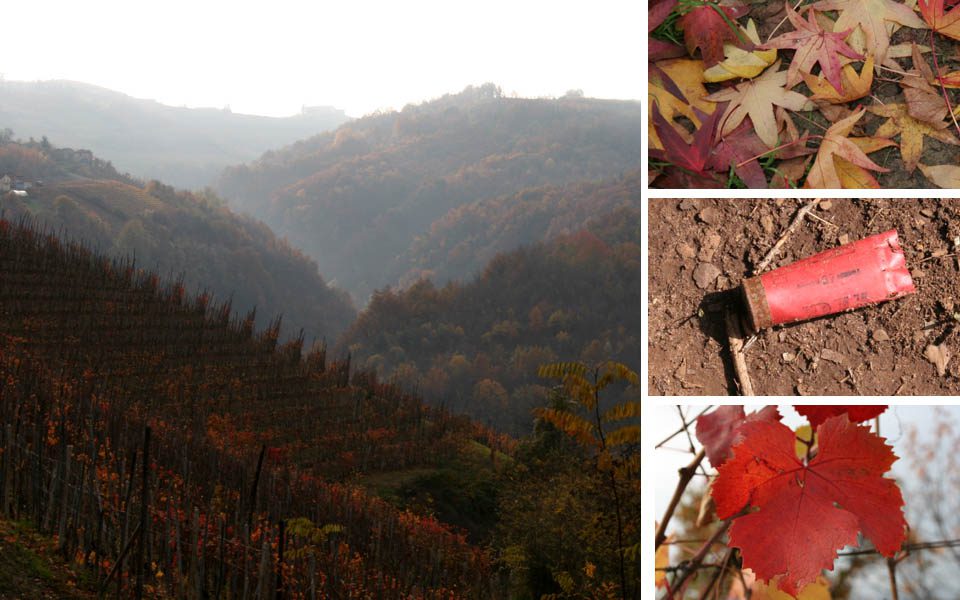 1. Make wreaths of leaves
Find a good forest and stuff shopping bags full of round, golden leaves, pull them on a steel wire and make a seasonal wreath. It probably won't survive the flight home, but it sure looks pretty as long as it lasts.
2. Collect mushrooms
Go out to collect wild mushrooms. The species vary from one region to the other but there are plenty of porcini, honey fungus, morels and chanterelles around and with some luck you might even come across a truffle. In most – or perhaps even all – areas, however, you need a special license to gather mushrooms, so the best solution is probably to team up with a local guide or mushroom and truffle tour operator.
3. Get some exercise
Get out your golf clubs, hiking boots, mountain bike, horse saddle, fishing rod or climbing gear and get some exercise. The temperatures are perfect for physical activities and you won't be crushed and squeezed by hordes of other tourists.
4. Go hunting
Go hunting, or watch out for those who do. A Piedmont farmer told me last week, that the wild boars treated his crops as their private food store eating everything on their way. Last year the hunting season in his 40 hectares neck of the wood produced 180 pigs along with a great number of deer and hare. That's quite an animal farm to be feeding, and without hunters these species would grow out of control. Hunters in Italy are allowed to roam private land and fire guns 150 metres from a house (see Federazione Italiana Della Caccia for more on Italian hunting laws) This leads to a high number of casualties. After the first month of the hunting season 2012, Italian hunters had accidentally killed 11 people and wounded 24 according to the animal rights group Animalisti Italiani . So when you go hunting beware of stray bullets.
5. Chew fog
Chew fog. When temperatures drop and there's no wind, low-lying, moist 'clouds' fill the plains and valleys. And the decreased visibility can be quite magic, when you are not driving.
More outdoor inspiration like these hunting grounds in Italy
UNESCO World Heritage in Liguria
Hikes on Etna – the edge of an active volcano
Hike to Cava Grande del Cassibile