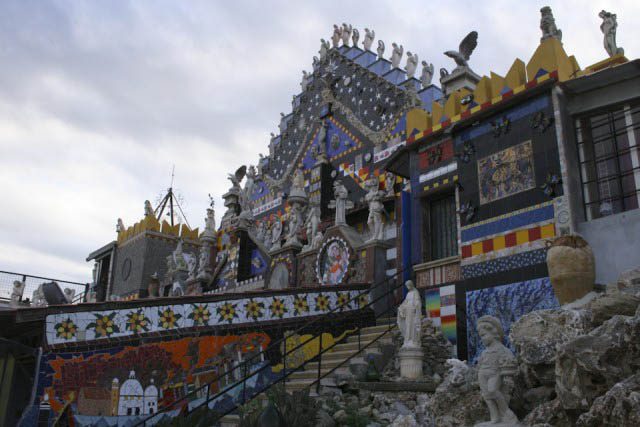 Italian artist at work in Guagnano
Visit Vincent City in Gaugnano on the road between Taranto and Lecce and see an Italian artist at work in one of the most original art colonies in Puglia.
I have no idea how many times I have passed through Gaugnano on the road between Taranto and Lecce without noticing anything special, but this time was different. The town with about 6,000 inhabitants appears like most other small towns in Salento, but according to hearsay Guagnano houses one of the most original art galleries/museums in Puglia. It was evidently something to be experienced.
Vincent City is located just outside Gaugnano in Contrada Scalera close to the railway station. On first impression it resembles an ordinary South Italian country house, if it had not been for all the offshoot buildings and lavish mosaics, sculptures, paintings and slogans that adorn all facades. The place seemed very private, so it was not without misgivings we parked the car in the yard and began to explore the surroundings. An old woman stood in a kennel and was so busy feeding the dogs that she could hardly be bothered to say good evening. A young woman mumbled to herself, while making a pyre of used rubber tires. And a couple of craftsmen gave us a friendly nod without interrupting their work. There was neither welcome committee nor restrictions for visitors.
On the front of a trullo 'La casa è di tutti rispettiamola' and 'Benvenuti nella città dell'arte' was written in bathroom tiles, and on the end wall Vincent Brunetti himself was presented as 'Genio Universale & ministro senza portafoglio "zona Franca"'. We walked around among garden gnomes, angels and amphora, and slowly approached the main house, which looked like a cloning of Gaudi, Hundertwasser and Saint Peter's Basilica with lots of saints and apostles at the eaves as if it had been a shelf for souvenirs. A large mosaic called Rotonda della ZODIACO gave an alternative interpretation of star signs. On a hill behind the houses was a 5 metre tall copy of the statue of liberty in the company of a beautiful, black billy goat. And one of the major buildings was dressed up as bar, brothel and church with mirrors, beer ads, saloon lamps, a sculpture of a naked woman, a small Michelangelo reproduction and some religious icons. No matter where you looked your could lose yourself in details, and everywhere there were violent clashes between different symbols, colors and styles. Very weird. And very interesting.
Inside the bar-brothel-church sat Vincent Brunetti and painted as if possessed, while disco music thumped out of the loud speakers. The assistant, who fixed the paint and put the big, colourful canvases out to dry, really had to work fast. The gallery behind them revealed breathtaking productivity. Unique paintings stood in piles and filled every square centimetre of the walls. Impressing.
By now the assistant had moved closer, just standing there watching with very large pupils. His language was almost unintelligible, but by and by he made us understand that we were welcome to see 'the house'. We followed him across the courtyard and into the main building, where he turned on the light in one kitsch crowded room after another. Paintings, mosaics, furniture, sculptures and stuff were packed in bizarre tableaux. Bare spots were spruced up with a pop icons, plastic flowers, incredibly ugly porcelain figurines, rococo furniture and soft toys in toxic colours. Even the ceiling was decorated with flying carpets and fairy lights. It was all too overwhelming to make sense, but I will certainly return to this tribute to art and kitsch and give it another try. Brunetti also looked up from his canvas for the few seconds it took to smile and say 'Arriverderci', before he again bent his back to paint.
The idea of Vincent City is that everyone is welcome to contribute to the site, which explains the wildly variegated overall impression. Brunetti founded the open house in Guagnano in the 1990s. Before that, he had gained recognition in Milan, but after a personal grief, he returned to his roots to achieve the ultimate artistic freedom. He was quickly joined by other southern Italian artists like Orodèwho has made many of the mosaics in the Vincent City or l'Eremo as it is also called. And if you do not happen to pass Guagnano in the near future, you can visit the project and the artist here.
More about art than an artist at work
The Paestum temples: Greek ruins in a sea of flowers
https://italiannotes.com/wp-content/uploads/2012/06/Art-commune-in-Gaugnano-Puglia-e1360494830778.jpg
427
640
Mette
https://italiannotes.com/wp-content/uploads/2014/12/logo.jpg
Mette
2009-11-13 18:14:00
2020-09-05 17:21:24
Italian artist at work in Guagnano