Art and architecture in Udine
Everywhere you go you are surrounded by art and architecture in Udine. One of the refined North Italian cities that makes you feel highly cultured for just being there.
Given the fact that Udine lies close to the Austrian and Slovenian borders and has been part of the Austrian Empire between 1797 and 1866, I had expected to find strong traces of Slavic and German influence. But apart from the bilingual street signs in Italian and Friulian dialect, the town remains unmistakably Italian and marked by 400 years of Venetian rule. A heritage that can be seen in art and architecture throughout the historic centre of Udine. Here's a quick itinerary
Moorish arches and Tiepolo paintings
We started out on the open Piazza XX Settembre, where children were playing ball in the last rays of the early evening sun. The architecture of the square spans several centuries from the subdued neoclassic elegance of Palazzo Antivari-Kechler to the restructured Casetta Veneziana, which is basically unadorned apart from the inflected Moorish arches above the windows. A few hundred metres further down the street the arches become round as a sign that we have reached the 13th century in the shape of the Romanesque-Gothic Cathedral.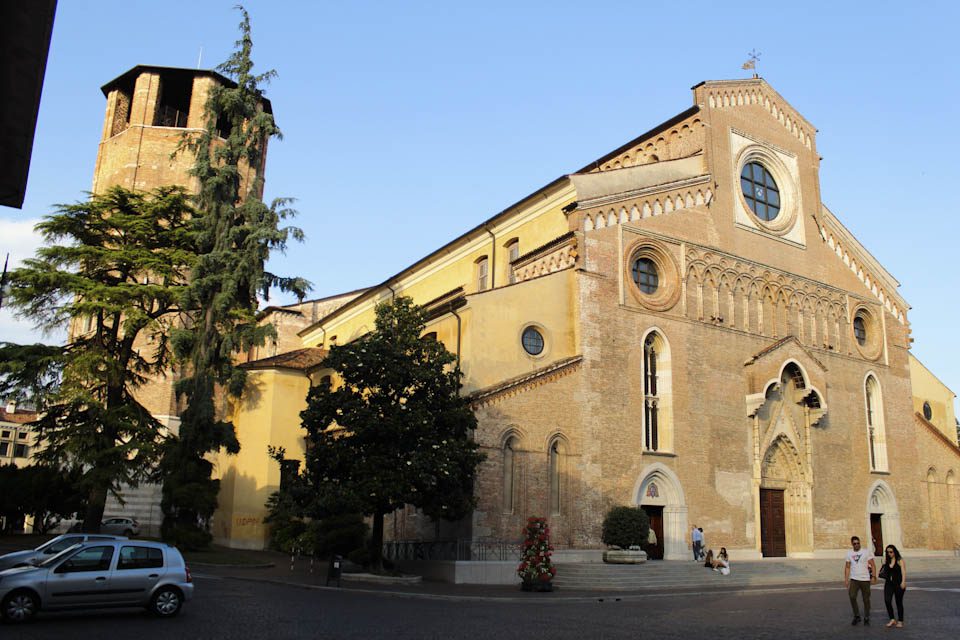 Inside the cathedral you'll find the Chapel of the Sacrament decorated by the great Venetian painter Giambattista Tiepolo. An artist whose work can also be admired in a cycle made for the Palazzo Patriarcale and in frescoes in the Castle, paintings in Palazzo Caiselli, and in the decoration of Udine's Oratorio della Purità.
Stunning piazzas and a manmade hill
Having studied the artworks and the octagonal bell tower we crossed through a tiny garden and under an arcade bridge connecting two buildings in the gallery for design and architecture Palazzo Valvason Morpurgo. And within minutes we found ourselves in the stunning Piazza Libertà. I've seen too many beautiful piazzas in Italy to rate, but this one is truly outstanding with a clock tower similar to the one on San Marco Square in Venice, the Loggia del Lionello in Venetian-Gothic style and the Arco Bollani designed by the celebrated architect Andrea Palladio.
We went through Palladio's gate and climbed up the castle hill said to have been formed, when Attila the Hun instructed his soldiers to bring soil in their helmets and pile it up in an otherwise flat landscape. At the top of the hill there's an old castle and a splendid view of the city and the surrounding mountains.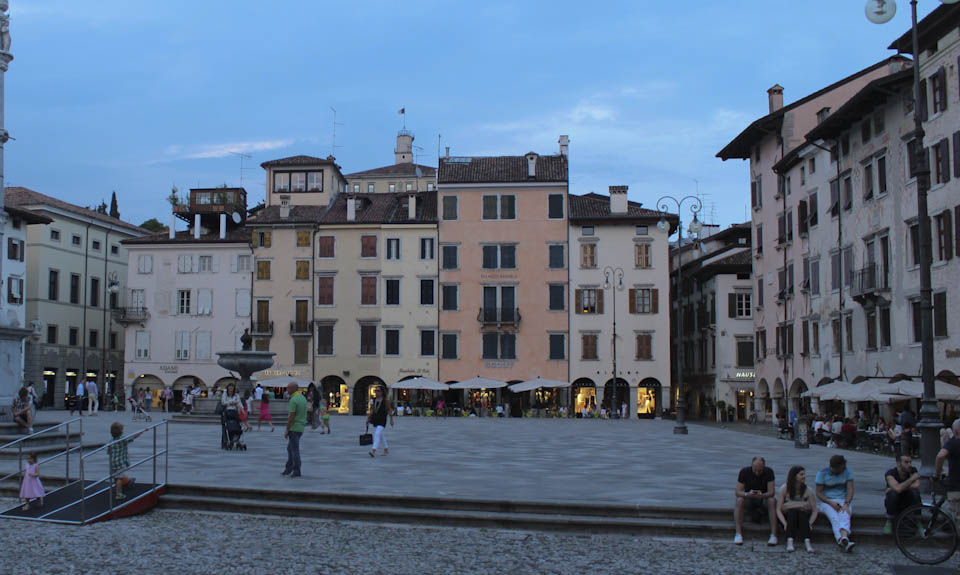 Back down again we headed straight for Piazza Matteotti and an Aperol Spritz. The historic centre of Udine is compact and walkable and there's a high ratio of tempting cafés. Especially, on the charming Piazza Matteotti where parents take a seat under the sprawling arcades, while children and toddlers roam the square. They seemed to enjoy themselves fully as much as we did in the historic surroundings.
More to see in and around Friuli-Venezia Giulia than the art and architecture in Udine:
Palladio bridge over the river Brenta