Arco degli Acetari – A Secret Corner of Rome
Lonely Planet describes Arco degli Acetari as one of Rome's most picture-perfect scenes. A secret garden a few steps away from Campo de' Fiori. But even in this small paradise there are snakes.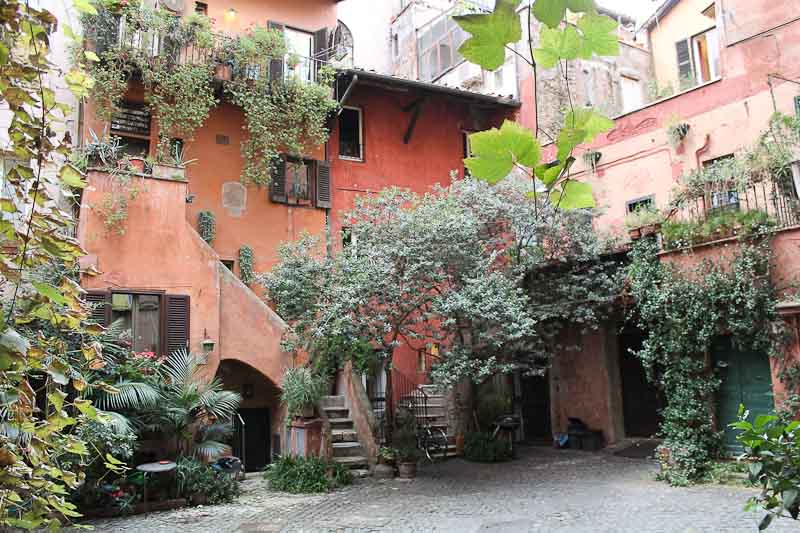 You can't argue with Lonely Planet or the many insider guides to the hidden secrets of Rome:
The tiny Medieval time-pocket of rusty coloured houses, wild cats and cascading flowers that reveals itself when you duck under a dark archway off Via del Pellegrini no. 19-41 is absolutely lovely and deserves a few camera clicks. The houses seem to grow organically in-between and on top of each other connected by a web of outside staircases. And the combination of warm orange colours and lush green plants gives Arco degli Acetari the comfortable feeling of a secluded, private garden. A place so far away from the selfie-sticks surrounding the Trevi Fountain, Colosseum and Saint Peters Basilica as can be.
The New Father Hustle
But no paradise is completely snake-free. Meditating over the peaceful tranquility of Arco degli Acetari, we almost fell for a classic Roman hustler. He was African and told us he was celebrating the birth of his first-born son that very morning. In keeping with the traditions of his country, he wanted to give us a small present of a glass elephant. And as it was a big day for him more presents followed, until he started asking for a "small" good-luck money donation in return and wouldn't accept coins.
Of course there was no harm done, but still these experiences are annoying, because they make you lose faith in the (as it turns out) naive belief that someone could want to share a happy moment with a stranger. Hmmmf.
No more vinegar in Arco degli Acetari
We left the hustler with his junk, and tried to rediscover the magic of the place that was named after the vinegar-makers, who used to live here. They had been commissioned to sell the special Acqua Acetosa from a fountain in Parioli known for its medicinal properties. In addition, they sold a home-brewed drink of water, sugar and vinegar.
Today there are no drink outlets in Arco degli Acetari, but right across the street there's a charming cocktail bar called the Draft Book Libreria, where they mix long drinks and Belgian beers with rare and used books. And if you dig deep enough into their treasure trove of printed words, you might well find more stories about the Arco degli Acetari before it became a popular postcard motif.