The seaside Salerno promenade, Lungomare Trieste, offers other distractions than a magnificent view of the Amalfi coast.
They sprout up all around the minute it starts to drizzle. Bright blue, red, green, orange and yellow nylon umbrellas dominate the view from Salerno's seaside promenade, where I had looked forward to a magnificent panorama over the sea with the Amalfi coast and the island of Capri in the background. Travelling can be unpredictable and some sights are only accessible with a certain amount of luck.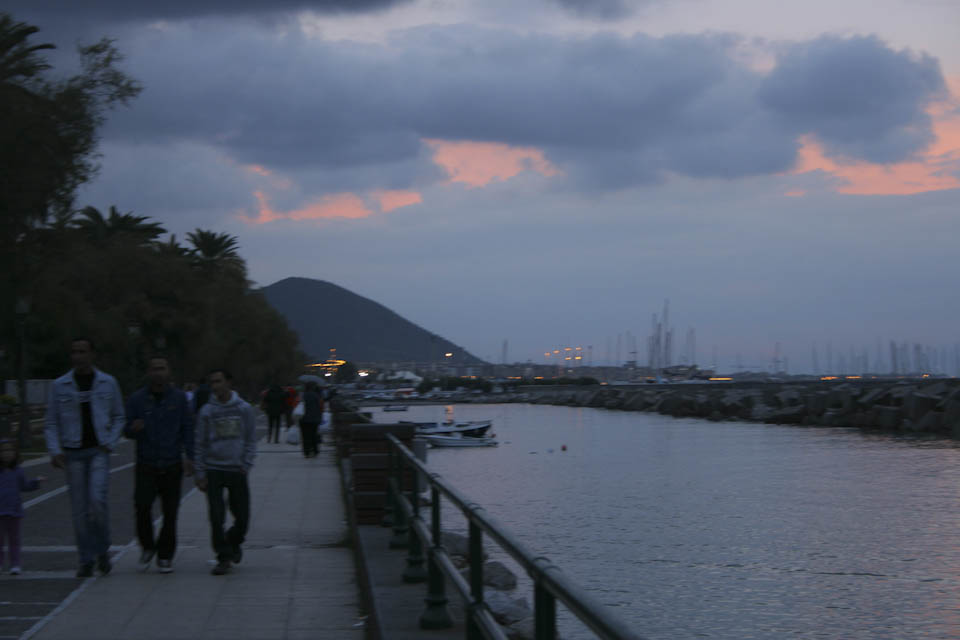 I hadn't counted the Lungomare Trieste among fickle attractions of Campania, and although the sunset ride has been cancelled for the night, this is the kind of theme park that never closes. While ferry passengers, old men with fishing rods, women walking tiny dogs, families with push-chairs and secret lovers run for shelter, other shadows become visible among the palm trees. Ikea's facer team keeps trying to persuade hurried passers-by to join the Ikea family Club. Sweet smelling smoke wavers around a group of heavily make-upped
–       One umbrella is 3 euro, but you can have two for 5, one of them says with a smile.subculture youngster. And then there are all the African vendors who manage to renew their entire stock of goods in the spur of the moment. Instead of selling carved woodwork, leather belts, lighters and hand bags, they are pushing cheap umbrellas.
We settle for an ugly green specimen and follow the crowd to the shops and shelter on Corso Vittorio Emanuele surrounded by people selling and buying umbrellas. On the way we pass an anchor leaning on a slightly fanshaped stone. The rain has not only managed to unfold a bouquet of brightly coloured plastic and transformed bad weather into a flourishing business. It has also temporarily returned the mariners monument to its natural element. It's a kind of magic that compensates for the missing sunset.
 Other things to do than taking a Salerno promenade
Salerno Italy – medicine and gardens
Must see places on the Amalfi coast
Salerno Italy – Sights and activities
https://italiannotes.com/wp-content/uploads/2012/07/A-promenade-by-the-sea-in-Salerno-e1360767566780.jpg
240
640
Mette
https://italiannotes.com/wp-content/uploads/2014/12/logo.jpg
Mette
2010-12-01 15:58:31
2016-08-18 18:52:27
A Salerno promenade by the sea