Taranto – home of Europe's biggest steelworks
Taranto used to regard the pink candyfloss skies as a local attraction. Now they are an emblem of an incredible environmental disaster.
In the book '101 cose da fare in Puglia almeno una volta nella vita', the writer Rossano Astremo suggests that you photograph the red skies over Taranto. A phenomenon that has been visible since the 1960s. At that time people saw it as a miracle caused by unique meteorological conditions, but now every child knows the pink skies are a poisonous by-product of Europe's biggest steelworks, Ilva.
The pollution sends a carpet of black soot and red 'polvere' or powder down over large parts of Taranto and especially the Tamburi area, where a new law forbids residents from touching the soil. In addition, Ilva has been accused of emitting carcinogenic dioxins amounting to 8.8% of the total dioxins emissions in Europe and causing cancer death rates at 15% above the national average.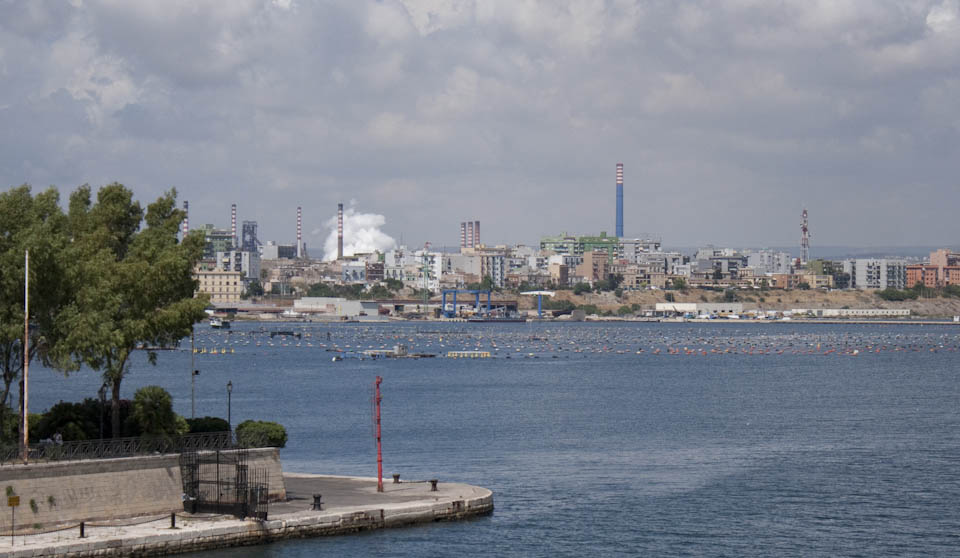 On this background it was not surprising that a magistrate in August ordered a shutdown of the most polluting furnaces and placed the owners of the steelworks under house arrest. But events took and unexpected turn when unions went on strike to protest against the magistrate's decision. They were backed by the Italian president, the government, and the ministers of the environment and health, who claimed that losing jobs also makes people ill.
So the furnaces at Ilva are still burning, while grazing has been banned within 20 km of Ilva and almost 3,000 livestock with excessive dioxin levels have been slaughtered. Mussel are still cultivated in Mare Piccolo but the beds have been moved away from the steelworks. And the residents in Tamburi will have to keep sweeping their balconies twice a day, while heavy investments are being made to transform the steelworks to a cleaner technology and save thousands of jobs in Taranto and other parts of Italy.
More posts on the wonders of Taranto
Mysterious Easter traditions in Taranto
Reggio Calabria to Taranto: Scenes from a road movie
Ilva
•
pollution
•
Puglia
•
Taranto
Promote Post
Enjoyed this post?