Tuscan recipe for sole with spinach
Sogliola alla fiorentina
Florence does not exactly abound with seafood recipes, but this one is a very delicate classic. It is a kind of fish lasagna without the pasta, where filets of white firm fish are cooked among layers of spinach and thick white sauce. And instant hit – even among people who are a bit reluctant to eat fish.
Ingredients
500 g fresh sole or similar firm white fish fillets
500 g spinach
½ lemon (juice)
1 clove of garlic
50 ml white wine
1 small white onion
Thyme
1 tbsp flour
400 ml milk
5 tbsp grated parmesan
Butter for frying, salt and pepper
Preparation
Wash the spinach and steam it in white wine with salt and crushed garlic until the leaves collapse
Fry the chopped onion gently in butter.
Add flour when the onion has turned soft and transparent, and stir vigorously and incorporate the milk little by little. (If you are not used to making besciamella it might be a good idea to put the fried onion aside while the sauce is being prepared)
Remove the saucepan from the heat and stir in parmesan, salt, pepper and thyme
Grease an ovenproof pan with butter. Pour some white sauce in the bottom and fill up with layers of fish and spinach.
Cover the top with white sauce and bake the fish at 180 C / 350 F for 15 minutes.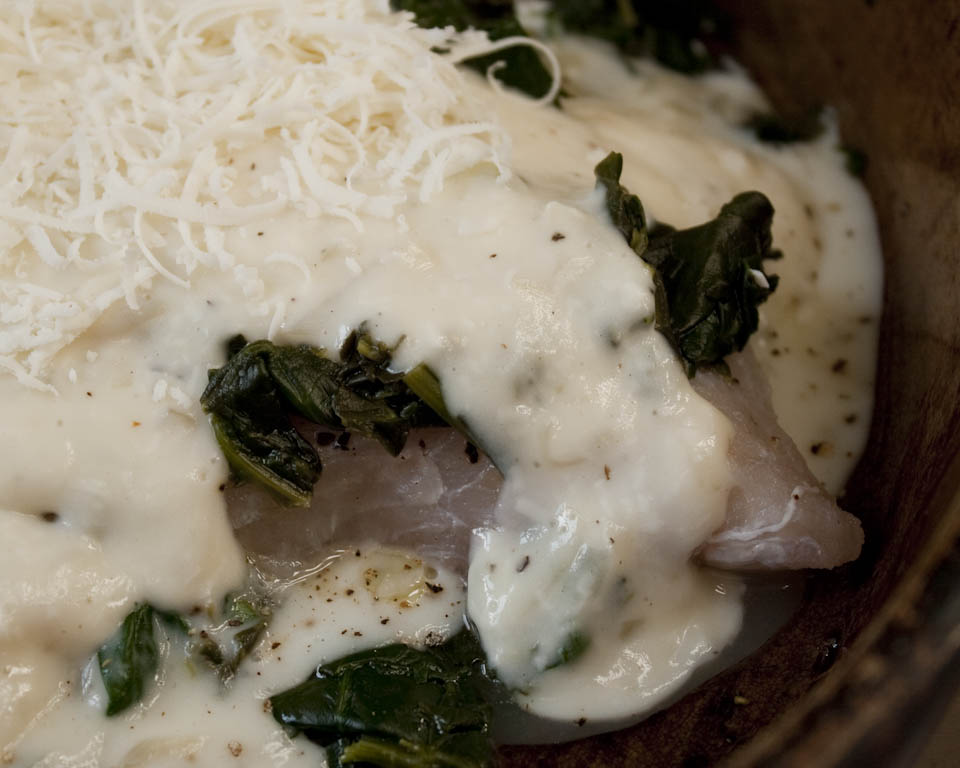 Alternative white fish recipes:
Cod with potatoes, squash, capers and anchovies
Promote Post
Enjoyed this post?