Secret romantic getaway in Asti
I don't know what I'd expected when I first entered Relais Cattedrale in the heart of Asti, but it was nothing like the warm, personal atmosphere of this unique B&B.
To me the French word 'Relais' connotes boutique hotels with gyms, spa treatment and gourmet restaurants, so I was surprised to find a modest and rather anonymous brass plate as the only street sign marking the place. And the surprise increased as we walked through a private courtyard and up to the first floor of an old building halfway between Asti Cathedral and the main shopping grid. You can't wish for a better location for a romantic getaway.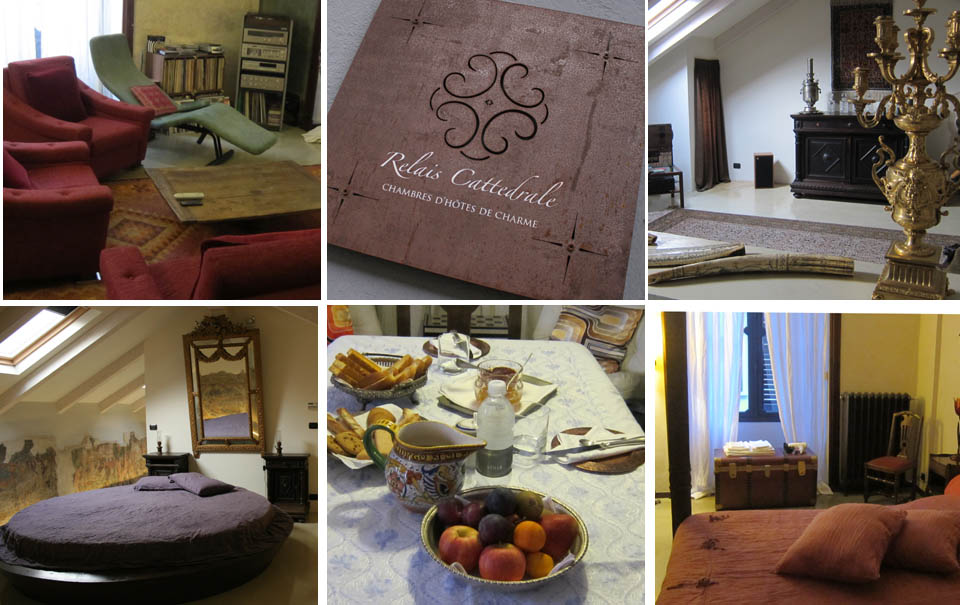 Vinyl and spice
Once inside we were shown to the 'paprika' room, where bedspread and furniture were kept in pleasing dark orange-red-brown colours. The sink was carved in granite, cobblestones paved the open shower and two wooden poles marked the bed. There was no television in the room. Guests who want to watch the news are referred to the soft chairs in the common living and breakfast room, where you can also listen to vinyl records, grab a book from the book case or play Nintendo Wii. The serenity of the room gave me plenty of time to study the intricate flower pattern carvings on the bedposts, but I couldn't quite figure out why they looked that way until Laura Elsa Valente, the owner of Relais Cattedrale, provided an explanation.
–        I found the 3 metre long, carved posts at an antique sale in Biella. Biella used to be a centre for textile production and those poles have been in roller printing machines 200 years ago. They are original and very old, she said.
The story made me stare at the bed poles in fascination for the rest of my stay, and made me aware of all the other details deserving attention.
Heirlooms
Laura' grandparents used to live in the flat that is now a B&B, and she has preserved a lot of their furniture and curiosities. For instance, her grand farther had bought the carved woodwork from an old church so the door to the kitchen originally opened up to a sacristy. In addition, her father was a diplomat who bought local handicraft, when stationed abroad, and part of his collection from Turkey and Morocco is now appreciated by tourists in Piedmont. It's a real treasure trove, and Laura is making a great effort of making all the details fit together under each rooms' spice theme.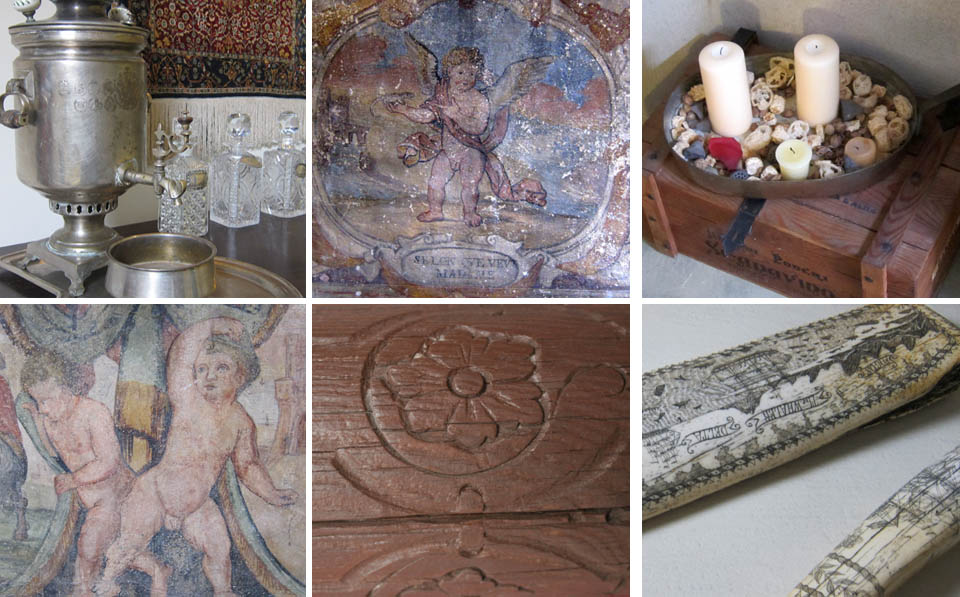 Unique frescos
What makes the hotel truly unique is a feature that came with the house. The 'zingiber suite' – and to a lesser extend some of the other rooms as well – are lined with original 17th century frescoes. The frescoes lined the ceiling in a nobleman's bedroom and were designed to educate his young wife in the art of lovemaking by depicting  Cupid. The frescoes, which are called "Emblems of Learned Love" or  "Amorum Emblemata" in Latin, are remarkably well preserved, considering that this is a private house, and their lure is increased by the other ornaments in the suite that include a rare collection of carved bones, golden church candelabra, a Roman vase, a Russian samovar and a wooden rowing machine made by Lamborghini.
At Relais Catterdrale there's so much to see, before you venture out in the streets of Asti. And the hotel fully lives up to the French meaning of the word 'relais' as a roadhouse, where you can stop and relax, while you relieve the horses.
I'd like to thank Laura and Relais Cattedrale for the hospitality. All views are as ever my own.
Other adventures in Piedmont
Five free things to do in Turin
Fabulous food walks through multiethnic Turin
Torta di Gianduja – Chocolate hazelnut cake
Promote Post
Enjoyed this post?