Few tourists find their way to Pollino – on of the large national parks Italy.  A great pity considering the interesting sights and attractions. Here are 10 good reasons for visiting  the area between Calabria and Basilicata.
Pollino qualifies as the largest natural park in Italy with a total area of 1 820 square kilometres. in close competition with the national parks in Abruzzo. The landscape is scared by deep gullies. There are dramatic rivers, secluded lakes and shady woodlands with kites and eagles circling overhead. Along with some very charming towns and villages where ancient traditions and rites are still observed.
The villages San Paolo and San Constantino Albanese are home to an Albanian community who came to Lucania between the 15th and the 17th century. They still have their own language and customs that include a bright colourful dress for women, particular food and elaborate Easter rites.
A century ago, this area then known as Lucania was controlled by outlaw gangs, highway robbers and other 'brigante' bandits. One of the legendary bandits was Antonio Franco, and it is said that the treasures he accumulated never have been found, so keep your eyes open if you hike along the Via del Brigante around the Pollino Mountain.
To reach the mountain tops in 2 267 metres altitude, you pass through forest of beech and silver fir that makes to think you have fallen asleep and woken up in Sweden. These areas a difficult to navigate and a local expert guide is required.
For some reason the artificial lake Lago di Monte Cotugno always makes me think of 'Tintin and the Lake of Sharks'. It has the same colours and deserted quality, even though it is supposed to be great fishing waters.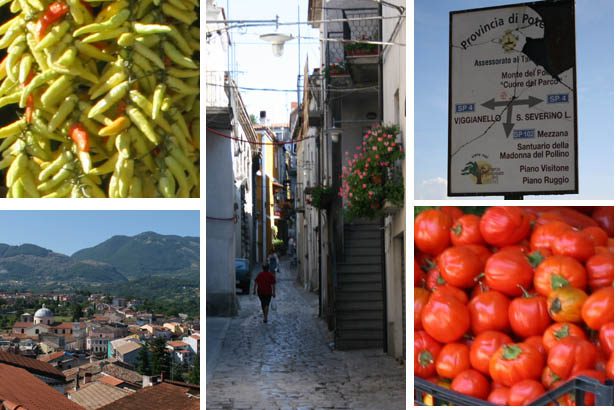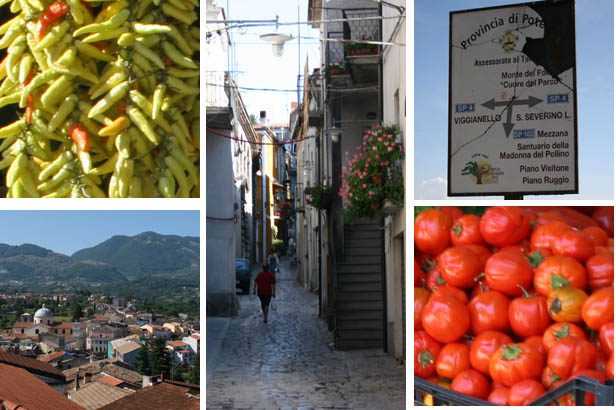 Nearby Senise is particularly famous for the local chilli peppers called 'zafarani'. They have received igp recognition and are served in innumerable different versions as for example marmalade and crisps.
In Terranova you have to see the Bosnian pine that has become the symbol of the park. These hardy trees that can grown at an altitude of up to 2 500 metres sometimes have a nicely sculptured crown not unlike a fully grown bonsai.
I almost didn't belive my ears and eyes the first time I saw (and heard) a man playing bagpipe on a street corner in Rotonda, but bagpipes are ingrained in the Pollino dna. And unlike the vain Scottish bagpipes, these instruments make it clear what they are and where they came from. Often the legs of the poor goat are still dangling beneath the inflated stomach.
Apart from the bagpipes, the red aubergines and a nice restaurant, Rotonda is famous for being the only town in Basilicata where Giuseppe Garibaldi has actually spent a night. This happened on 2. September 1860 on a brief stopover before moving on to conquer Naples.
If you want to experience the area from a different perspective seek out one of the river courses departing from Papasidero and Laino Borgo. In summer varying levels and durations are offered including white-water rafting, canyoning and kayaking. We drove around looking for the stations for 2-3 hours for one morning without getting there, so use a gps to make sure you know exactly where you are going, if you plan this adventure.
Spiritual travellers might like to visit the hamlet Castronuovo, where Saint Andrew Avellino patron saint of Sicily and Naples was born in 1608. There's a small chapel in the house where he was born and where people go to worship the great crusader of chastity. Saint Andrew was severely wounded when trying to reform and restore discipline at a convent in Naples. He was beatified only 16 years after his death.
More on Basilicata
Visit Aliano: Tourists stop at Eboli too