Tortellini in brodo
Some friends in Bologna have a live-in granny to do their cooking. Here's one of her Italian pasta recipes.
It hadn't occurred to me that tortellini should be served in broth, until many years ago when we first visited friends in Bologna. They had a live-in grandmother of the type, who doesn't mind cooking soup and rolling pasta for others to enjoy, while she stays downstairs with her television. Brava.
Her tortellini pasta filled with boiled meat and sausage ends was absolutely fabulous and unforgettable. If you don't have time to make your own broth or tortellini, good readymade products can be used instead.
Ingredients
For the soup
1 kg beef for boiling eg. breast meat
100 ml white wine
2 onions
1 carrot
2 cloves of garlic
1 leek
1 stick of celery
3 laurel leaves
Fresh parsley, rosemary, thyme and marjoram
Salt, whole pepper corns and olive oil
For the pasta
250 g flour
1 egg
1 tbsp olive oil
For the filling
100 g boiled beef
100 g mortadella
100 g ham (cured or boiled)
100 g parmesan
1 egg
Grated nutmeg, salt and pepper
Preparation
Peel and slice onions, garlic, carrot and fry the vegetables in olive oil along with chopped leek and celery.
Place the beef in the pot, add white wine and bring it to the boil.
Cover the meat with water. Add herbs, laurels, salt and pepper corn.
Make sure to remove scum and other impurities that rise to the top
Let the soup simmer for 2-3 hours.
Meanwhile prepare the pasta
Make a heap of flour.
Place the egg in a hole in the middle and gradually mix in more and more flour
Adjust the texture by adding a little olive oil or more flour or water.
Knead the dough thoroughly and run it through a pasta machine at least 10 times, before you start to decrease the width.
Cut the thin pasta sheets in circles or squares
Place a spoonful of filling on each circle, fold it and close the ends
Pass the soup through a sieve
Discard the vegetables and bring the broth to the boil
Add salt and pepper to taste
Drop the tortellini in broth and boil for 2-3 minutes before serving
As all Italian pasta recipes, homemade tortellini in broth should accompanied by showers of freshly grated parmesan
More soup recipes
Carabaccia – A Tuscan onion soup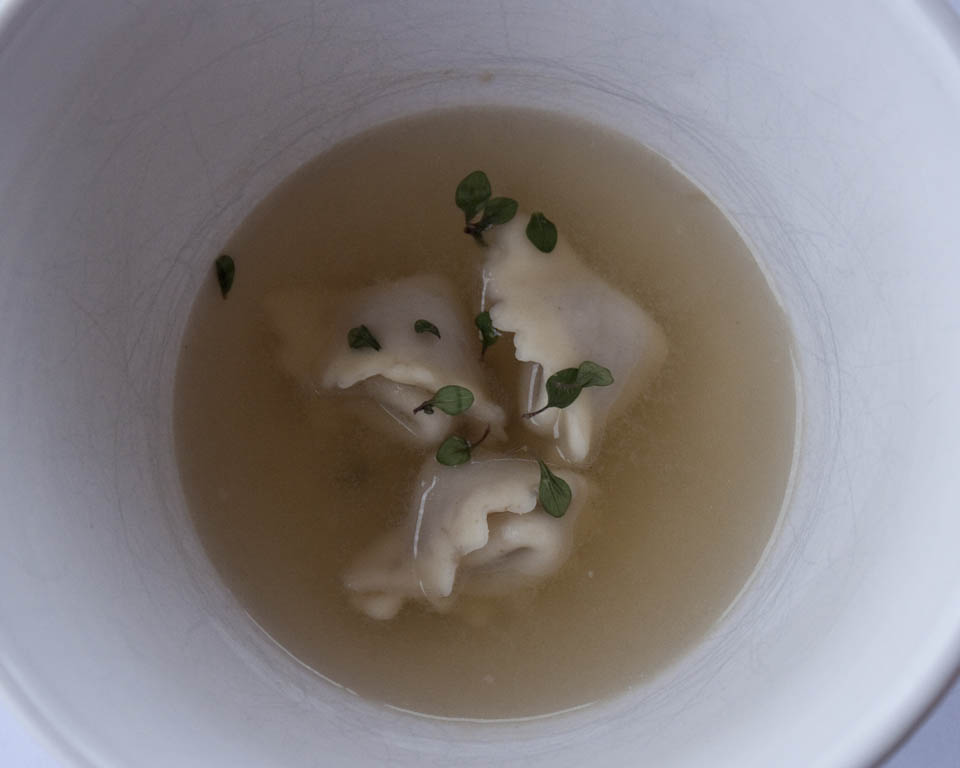 Promote Post
Enjoyed this post?