Easy homemade energy bars
Barretta energetica
A friend generously gave me this recipe for homemade energy bars, which she had as an old cutout from a unnamed Danish magazine.
It's sweet, chewy snack of nuts and dried fruit that gives an instant energy boost during long distance cycling, hiking or jogging. And they are also brilliant for marathon drives from one end of Europe to the other.
Ingredients
60 g flour
A pinch of salt
1 tsp baking powder
200 g dried dates
120 g dried apricots
80 g raisings
100 g walnuts
100 g almonds
100 g muscovado sugar
1 egg
Preparation
Mix flour, salt and baking powder
Chop almonds, walnuts, dates, apricots and raisins coarsely ( – It is a lot easier if you use an electric food processor)
Mix the flour well with nuts, fruit and sugar
Add the egg to make a dough
Roll the dough out to ½ cm thickness between two sheets of parchment paper
Bake at 160 C / 320 F for 20 minutes. Reduce the heat and the baking time if you are using a convection oven.
Cut the cake into rectangular bars when cooled.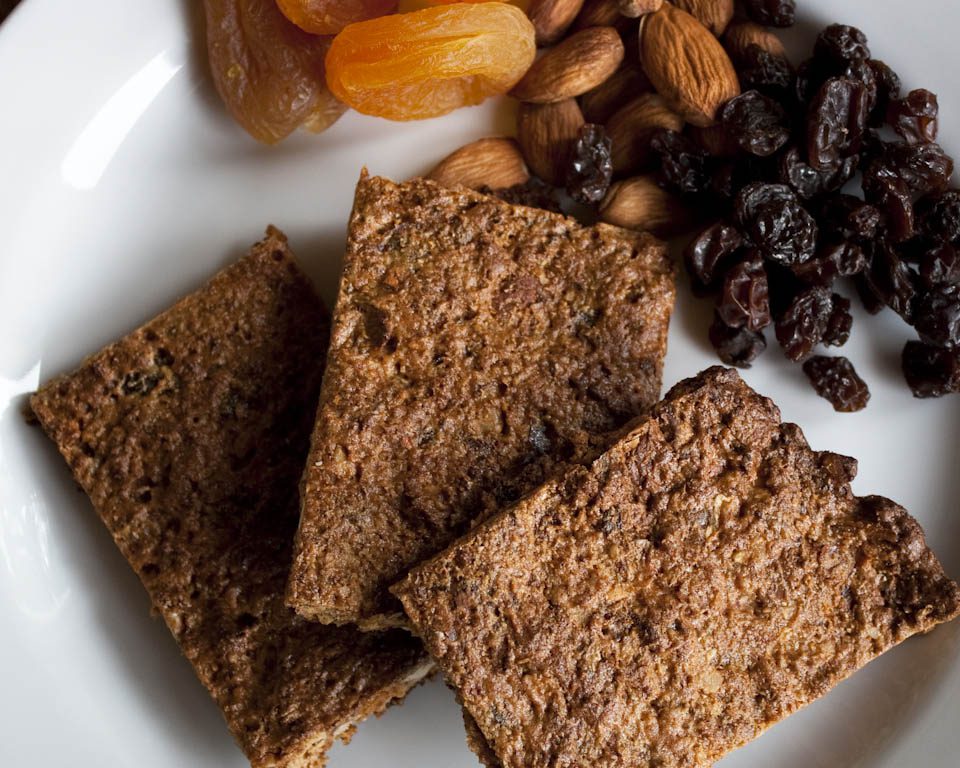 More nutty cakes
Apple cake with walnuts and amaretti
Coffee and walnut cake with mascarpone filling
Tosca cake with almond caramel topping
Torta di Gianduja – Chocolate hazelnut cake
Promote Post
Enjoyed this post?