Spread around the sunny Sicilian landscape invading Greeks have left their marks. Here are some of the most impressive Greek temples and sites of Magna Graecia in Sicily.
I don't think I've been to any place in Sicily without stumbling over ancient Greek ruins. Everywhere huge rocks, columns, temples and amphitheaters commemorate the Greek settlements that began about 750 BC. And even though some of the sites are in a sad state deserving little more than a shrug, some leftovers from Antiquity still deserve a visit. Here is my list of great outings from holiday stays at Sicily villas.
For centuries Syracuse served as the most important Greek colony in Sicily and the philosopher Cicero described it as "the greatest Greek city and the most beautiful of them all". On the island of Ortygia you can walk through history to the Temple of Apollo which is the oldest Doric temple in the world with a row of columns on each side. See the Fountain Arethuse formed by the perspiration of the nymph Arethusa when she tried to escape from the persistent courtship of the river god Alpherus. And take a seat at the largest Greek Theater ever built. The 67 rows in the cavea could accommodate up to 16 000 people who had come to see circus games and Greek tragedies of Sophocles, Euripides and Aeschylus.
Near the theatre stone quarries were used as prisons like the 23 metres high cave Orecchio di Dionisio with its amazing acoustic resonance. The cave earned its epithet as the Ear of Dionysius because the tyrant used to eavesdrop on the secret plans whispered by imprisoned political dissidents.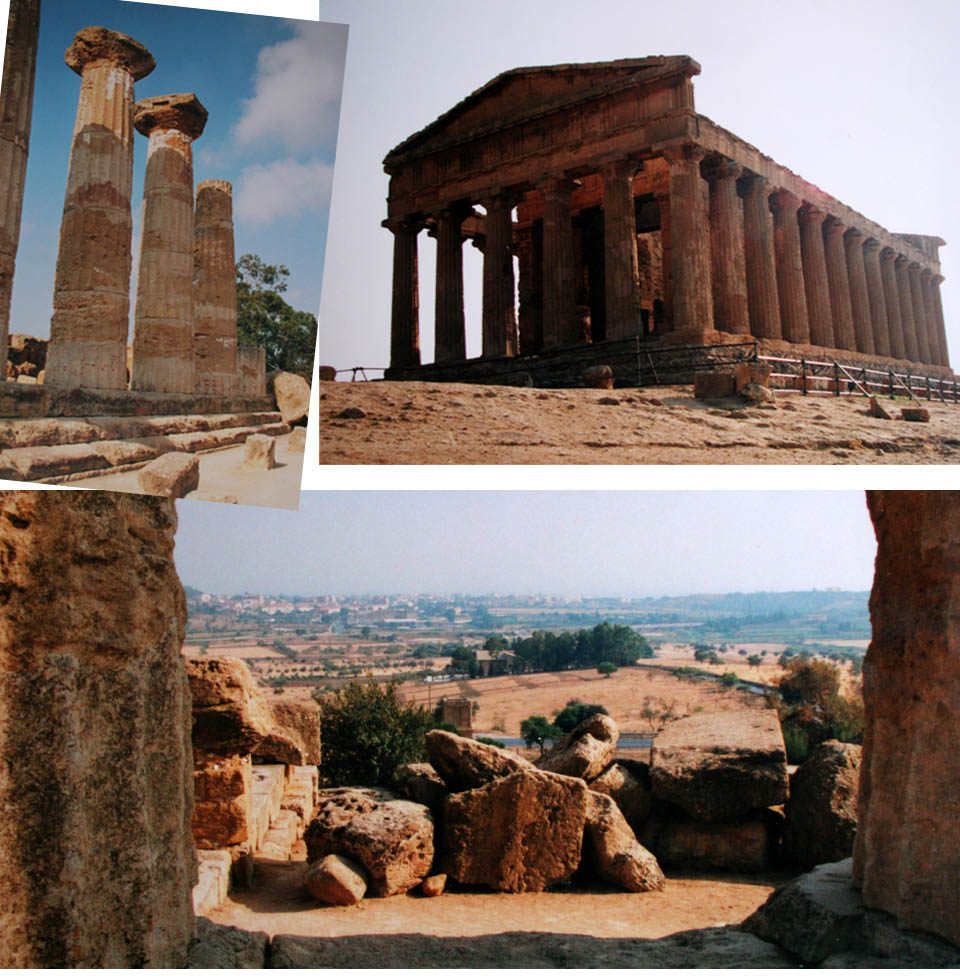 By Agrigento the ancient Greek city Akragas included a large sacred area with seven monumental Doric temples. Though earthquakes, wars and stone quarries have upset most of the original constructions, the Valle dei Templi comprises some of the largest and best-preserved ancient Greek buildings outside of Greece, and many other Greek and Roman sites can be found around the town.
Well preserved and re-erected Doric temples can also be found in Selinunte and outside the ancient town Segesta which was located on the top of Monte Bàrbaro in the province of Trapani 60 km further north. The construction of the temple in Segesta may never have been quite finished, but 36 columns remain and the nearby amphitheatre offers a magical view of the surrounding landscape. Selinunte originally comprised five temples centered on an acropolis, but only one of these temples has been reconstructed while foundations of the others are visible along with other architectural fragments. In fact, the whole area is filled up with a heaps of fallen columns, capitals and stones forming one of the most monumental and magnificent archeological sites on Sicily.
Other  attractive sights in Sicily
Exploring Taormina attractions on your own
Sitting on a cloud sipping Marsala
Reading the ancient temples in Agrigento

View Sicily in a larger map