Burrata with pickled aubergine
Burrata con melanzane sott'aceto
When  in Puglia, I'm totally addicted to burrata, which is a fresh mozzarella-like cheese with a creamy heart. Burrata should be eaten less than 48 hours after it has been made and this kind of limits the spread. We usually buy them at directly at farm dairies or farmers' markets, but burrata are also sold in big local supermarkets. Unfortunately, I have never seen the burrata in Denmark, though I have been told that this remarkable fresh cheese can be obtained from Italian specialty shops around the world. Just beware of the matured version with solid butter inside. This is really disgusting, unless you've got a penchant for eating butter by the spoonful.
The burrata is great in itself served with fresh bread to soak up the cream. But I also like it with some kind of pickle like this aubergine/eggplant preserve.
Ingredients
1 aubergine
1 burrata fresh cheese
200 ml white wine vinegar
½ tsp sugar
1 tbsp capers
salt, olive oil, parsley and oregano
Preparation
Wash and peel the aubergine and cut it in cubes
Bring 1 litre of water to the boil with vinegar, salt and sugar
Boil the aubergines for 3 minutes
Drain the aubergines, dress them in olive oil and mix in capers, parsley and oregano
Arrange the aubergines around the burrato before serving.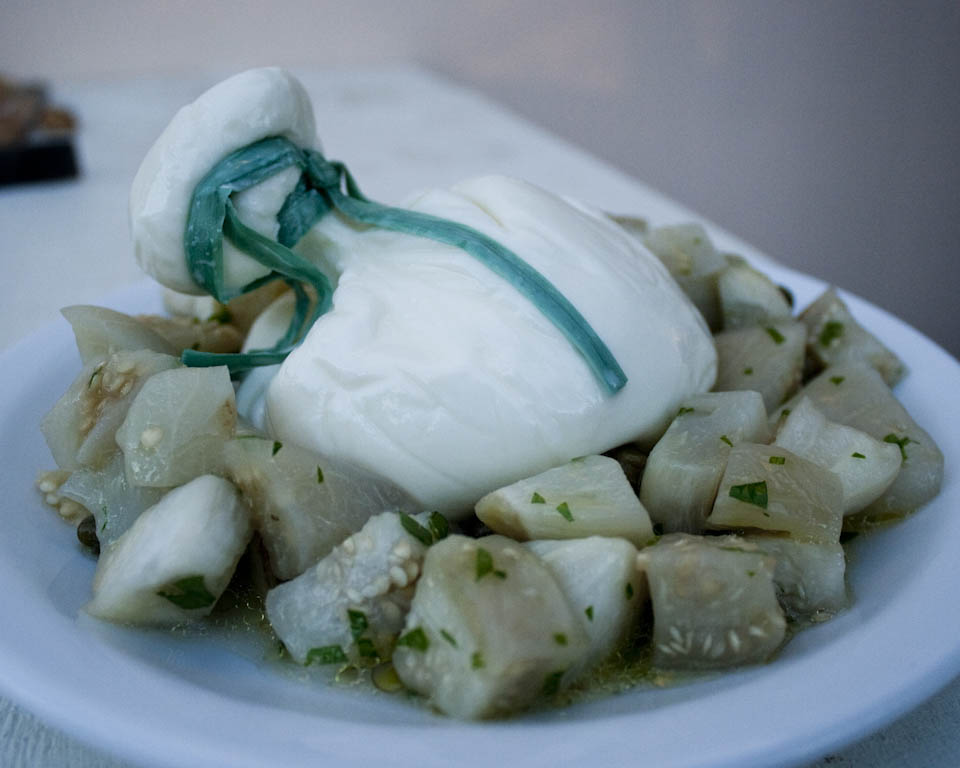 Other great pickles
Marinated squash with basil and mint
Tagged with:
aubergine
•
burrata
•
cheese
Promote Post
Enjoyed this post?