Ballotine of chicken with ham and dried tomatoes
Polpettone di pollo
I'm really proud of this ballotine of chicken recipe, and for several reasons. First and foremost, it tastes divine both served warm as a main course and cold as homemade salami. Second, it looks impressive with the delicate lines, textures, and specks of red tomato and green herbs in a roll of white. And third, I wasn't really sure the method of preparation would work as well as it did.
In fact everything converged to make a most memorable dinner. Which I must make again. Soon.
One stuffed chicken breast serves four when it is part of a traditional Italian meal with numerous starters and a pasta course before the arrival of the meat. Amounts should be doubled if the ballotine is served alone with eg. a garlic and walnut sauce, preserved apricots and figs and farro wheat grains or potatoes.
Ingredients
1 half chicken breast
200 g minced chicken meat
1 tbsp white breadcrumbs
1 shallot onion
5 dried tomatoes
100 g cured ham
100 g pancetta or mild bacon
1 tsp paprika
Salt, pepper and fresh rosemary
Preparation
Cut shallot onion, dried tomatoes and pancetta in tiny dices
Mix the minced chicken with salt, pepper, paprika and rosemary
Stir in breadcrumbs and onion, tomatoes and pancetta
Cut the chicken breast almost through from left to right and then from right to left lengthwise, so that you can fold it open in one piece like a three leaf folder
Cover the chicken breast with thin slices of cured ham
Place the minced meat on top and roll ham and chicken breast around the mince to form a sausage
Wrap the meat up tightly in cling film
Wrap foil around the cling film and boil for 30 minutes – use a plate to keep the chicken roll submerged beneath the water
Leave the chicken to cool in the water for another 30-60 minutes
Remove the foil and the cling film and cut the ballotine of chicken in thin slices before serving.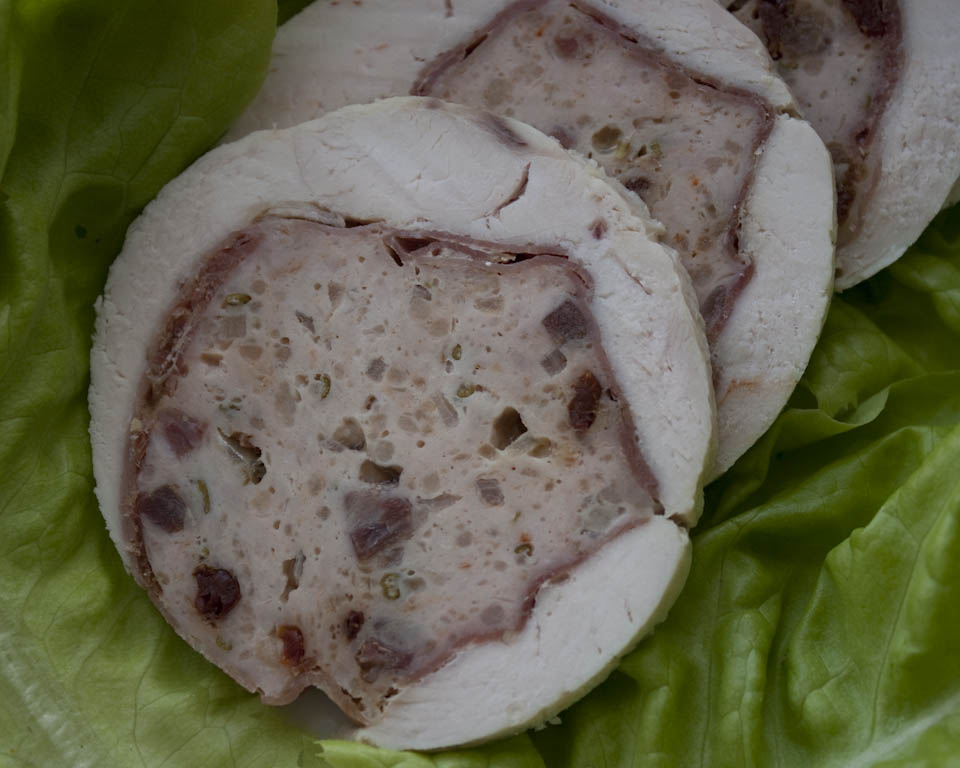 More creative poultry recipes
Promote Post
Enjoyed this post?