Facts about Mount Vesuvius
The eruption that buried Pompeii spewed out lava weighing the same as 250 000 fully grown elephants per second. And there are other interesting facts about Mount Vesuvius
Walking up the spiral path to the crater of Mount Vesuvius may seem like a picnic, but I was glad when it was over.
Call me hysterical, but a hike on the only active volcano in mainland Europe gave me the jitters. After all, Vesuvius has erupted many times and is regarded as one of the most dangerous volcanoes in the world. And even though I know, the danger is not due to the immediate risk of a sudden deadly explosion, but to the density of the population living in nearby Naples; it is still kind of scary.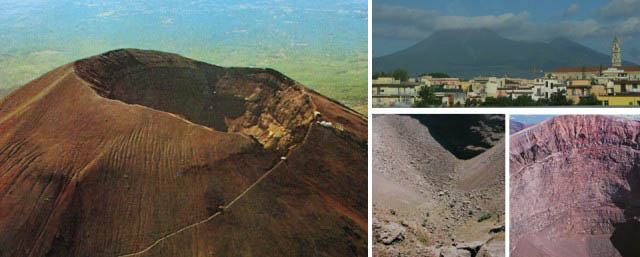 Especially with these 5 facts in mind:
Fact 1: Heavy Artillery
When Mount Vesuvius erupted in AD 79 burying the Roman cities Pompeii and Herculaneum it spewed 1.5 million tons lava per second. Like shooting out 250 000 fully grown elephants each second and letting them fall through the air.
Fact 2: Crushing Heat
The eruption released a hundred thousand times the thermal energy released by the Hiroshima bombing. An estimated 16 000 people lost their lives.
Fact 3: Numerous Eruptions
Vesuvius has erupted many times since then. On April 7, 1906 it ejected more lava than ever and killed 100 people. The last major eruption in March 1944 destroyed four villages.
Fact 4: The Name and Shape of the Eruption Column
Volcanologists have adopted the term "Plinian" from Vesuvius to describe large volcanic eruption clouds. This is due to Pliny the Younger, who described the 79 AD eruption as a tall, "umbrella pine" shaped cloud that rose above the volcano.
Fact 5: Dangerous Minerals
Most rocks erupted from Vesuvius are andesite. Andesite lava creates explosive eruptions, which makes Vesuvius especially dangerous and unpredictable.
In spite of this the only activity I saw during my walk along the summit rim was small clouds of dirt or steam forming at the bottom of the crater. And the souvenir geologist collection of pumice, andesite and other volcanic rocks, I've got stored away as a somewhere is peacefully dormant under layers of dust.
More on hiking and outdoor adventures in Italy
UNESCO World Heritage in Liguria
Hikes on Etna – the edge of an active volcano
Hike to Cava Grande del Cassibile